Boko Haram: How 14 Female Suicide Bombers Laid Siege To Maiduguri On Sunday – Military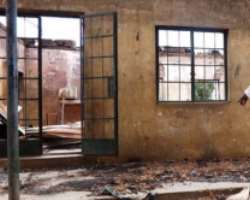 BEVERLY HILLS, December 28, (THEWILL) – The military authorities said on Monday that 14 Boko Haram female suicide bombers actually laid siege to Maiduguri, the Borno State, on Sunday during which no fewer than 25 persons were killed while 85 others were injured.
The Theatre Commandant of the military anti-insurgency operations (Operation Lafiya Dole) in the North East, Major General Yushau Abubakar, disclosed this at a media briefing in Maiduguri.
He said the female suicide bombers, who were aged between 12 and 18 years, tried to force their way into Maiduguri to "cause mayhem, confusion and panic."
Abubakar, who represented the General Officer Commanding (GOC), 7 Division of the Nigerian Army, Maiduguri, Major General Lamidi Adeosun, at the briefing however said the "amazons of death" were intercepted by the troops of Nigerian Army on patrol, adding that "three of the suicide bombers detonated the IEDs, killing 25 persons, while 85 others were injured."
According to Abubakar, the terrorists were out on a coordinated suicide mission through Asmari, Damboa check point, Ali Dawari, Molai Kura, Baderi, Jumari villages, all at the outskirts of Maiduguri.
He however confirmed that "seven suicide bombers were gunned down by our troops, three escaped and one (was) arrested."
Speaking further, Abubakar said: "I believe they (our troops) have averted what would have been a major disaster if they (suicide bombers) had gained entrance into Maiduguri.
"One of them went to a nearby house and requested for water to perform ablution but instead prepared herself and came to a nearby mosque and blew off herself killing one person while 13 others were injured."
He lamented the loss of four soldiers to recent ambush by the insurgents in Mairari along the Maiduguri, Monguno and Firgi roads, stressing that the gunmen had resorted to attacking soft targets since their capability to coordinate mass attacks has been limited by the troops.