Kuku Declares For Ondo Governorship Despite Being Sought By Efcc Over Allegations Of Fraud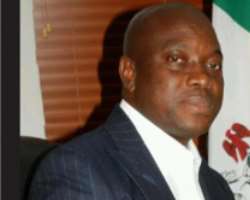 BEVERLY HILLS, December 28, (THEWILL) – Mr. Kingsley Kuku, a former Presidential Adviser on Niger Delta Affairs and Chairman of the Presidential Amnesty Programme under the administration of former President, Dr. Goodluck Jonathan, has announced his bid for the Ondo State governorship seat despite his invitation by the Economic and Financial Crimes Commission (EFCC) over allegations of misappropriation of funds.
Kuku, who is believed to be deliberately avoiding investigators, is yet to honour the over 3-month old invitation.
In a statement Sunday in Akure, Ondo State, announcing the constitution of his campaign committee for the 2016 governorship election on the platform of the Peoples Democratic Party (PDP), Kuku named Honourable Ebenezer Alabi, a former state chairman of the PDP as head of the Kuku Support Group.
Kuku, who said he has been recuperating in n hospital in United States of America hospital after a knee surgery, said the formation of the group became imperative in order to make it easy for him to interact and interface with his supporters who have been concerned about his state of health.
"I have been overwhelmed by messages from persons at home and in Diaspora genuinely concerned about my medical trip in the United States of America and trending events in our polity especially Our Sunshine State"
"By the schedule of my treatment, I am now at the concluding and very critical physical therapy stage, after which I shall return home in due course of time."
"With the messages coming from well meaning individuals, professional bodies, youths and women's groups, associations of market women and artisans, it has become necessary for me to appreciate and recognise these persons and organise them under this platform to make it easy for me to interact and interface with them from time to time," he said.
Kuku expressed confidence in the ability of Alabi in carrying out the task and stated that Alabi was picked as the coordinator of the group because of his political experience and said the former chairman would work with other tested and trusted hands to ensure smooth operations of the group.
"Alabi's experience as former Chairman of Akure North Local Government and state Chairman of PDP will in no small measure be an advantage in this task."
"Alabi is trustworthy, reliable and completely de-tribalised individual who is totally committed to the PDP in Ondo State and Nigeria at large."
"Hence, I have no doubt he will deliver on this assignment. Once again, l wish to express my sincere gratitude to all those who have demonstrated this uncommon love for me," the statement added.