SON warns supermarkets over fake products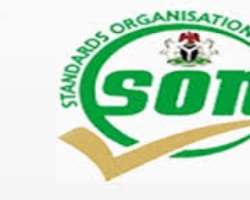 The Director General of the Standard Organisation of Nigeria, Dr. Joseph Odumodu, has called on supermarket operators and variety store owners in the country to help the fight against the influx of substandard products into the nation's market in order to put an end to loss of lives caused by consumption of the products.
The SON DG made the call in his address during a sensitisation programme initiated by the organisation in Ibadan to educate the supermarket operators and variety store owners.
Odumodu said it was vital to carry the sub-sector stakeholders along in the fight against the scourge because of their relevance to the nation's economy and the health of the people. Among those who delivered paper at the forum is the Desk Officer, Standard Organisation of Nigeria Conformity Assessment Programme, Rose Madaki.
He said, 'As part of SON mandate, the organisation is set and duty bound to sanitise the market from substandard products, but we want to achieve this goal by carrying all stakeholders in the sub-sector along. This is because the forum is in furtherance of the organisation's zero tolerance to substandard products initiative, which has stakeholders' sensitisation and awareness as well as collaboration as an integral part.
Sponsored Advert:
VACANCY! VACANCY!! VACANCY!!!
Job Position: Chief Accountant at an Agro-Allied Conglomerate in Delta State
Click here for details
'The influx of substandard products and loss of lives are sad commentaries in our development as a nation, which justifies the need for it to be checked. This paved the way for an interactive platform of this nature to further educate ourselves, either as wholesalers or retailers, on the need to always purchase and promote the sales of certified products.'