Borno: Boko Haram Kills Many, Abducts 6 In Christmas Day Attack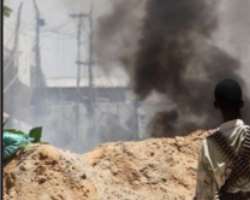 SAN FRANCISCO, December 26, (THEWILL) – Despite the curfew imposed on Borno State from Thursday to Sunday morning in order to prevent any breach of peace, rampaging Boko Haram insurgents, Friday evening, still struck at Kimba in Biu local government area of the state, killing 16 persons, including children and abducted six others as they set many houses and shops ablaze in the Christmas Day attack.
Disclosing this was a fleeing resident of the village, Ishaq Abubakar, who said that the gunmen stormed the village at about 7pm on Friday.
Abubakar, who disclosed that the insurgents started shooting and setting houses ablaze as soon as they came, said: "When they left, we counted 15 people dead, including children, and noticed that six persons were missing who we believed were abducted by the terrorists.
"As I am speaking to you, we have all fled the village because we believe we are open to another attack and would not want to be killed when they return."
Corroborating Abubakar's account, a local vigilante member in Biu who craved anonymity told THEWILL: "On Friday 25th December 2015 at abbot 19 hours, some Boko Haram insurgents attacked Kimba village, killing 15 people, setting houses ablaze and abducted six persons."