Doyin Okupe defends Femi Adesina's 'wailing wailers' Christmas tweet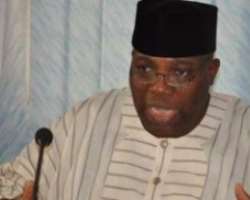 Special Adviser to the President on Media and Publicity Femi Adesina on Thursday got support from unusual quarter.
Former aide to Goodluck Jonathan, Doyin Okupe, while reacting to a spate of criticisms that followed Adesina's Christmas message,   faulted the attacks on Adesina.
Buhari's spokesman, had in in a Christmas greeting in  his Twitter handle to  Nigerians  Friday said, "Merry Christmas to Nigerians, including wailing wailers."
But rather than achieve its aim of warm Christmas greeting, many Nigerians were rankled by the ordinarily innocuous term 'wailing wailers'. The response was simultaneous.
They rose in condemnation of what many termed Adesina's disrespectful words to very people that he was appointed to serve.
But to Okupe, it was just an innocent tweet misread by Nigerians.
In his own reaction to the tweet, he on his Facebook post that  Adesina might have wanted to create a comic relief with the tweet and did not mean any harm.
He said, "I am not an apologist of this administration neither am I a supporter.
"The post by Femi Adesina this morning is totally harmless and does not deserve the vitriolic attack or condemnation that it seems to be getting.
"I have not spoken to Femi but I know he included 'the wailing wailers' just as a form of anectedote that is not unusual with writers.
"Many people on the social media network are too intemperate and over sensitive.
"They look out for faults and loopholes to bring down people in public offices. They also set up unrealistic and sometimes practically impossible moral grounds which they themselves cannot keep for public officers.
"I know for a fact that people like me are supposed to be the 'wailing wailers' and we are not angry neither do we feel insulted by this otherwise humorous Xmas greetings.
"On behalf of the wailers we salute Femi and thank him for this inconclusive Xmas felicitation.