Tragedy averted in Maiduguri as vigilante operatives foil Boko Haram attack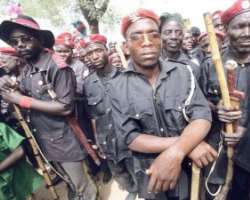 Vigilante operatives on Thursday foiled what would have been a massive attack by persons suspected to be members of the Boko Haram Islamist sect.
Thousands of Muslims celebrating Maulud- to commemorate the birthday of holy Prophet Muhammad-could have been killed in what was obviously meant to be a major attack.
According to reports,  the vigilante operatives intercepted five food flasks filled with bombs outside a popular Maiduguri mosque in Borno state.
Five suspected with lethal weapons ingeniously hidden in  five big food flasks (otherwise known as coolers) that ere wheeled on a hand-pushed cart  headed for Medinatu Mosques in the heart of Maiduguri, Borno state, where adherents of the Tijjaniya Islamic sect were marking the Maulud Nabiyi, but were all arrested before they got to their destination.
The arrested bomber s were said to have earlier claimed the giant food flasks contained hot rice cooked to be delivered to the celebrating Muslims as gifts.
Thousands of Muslims from different parts of the country were wont to congregate in or near the popular Sheikh Abdulfathi mosque located in Medinatu neighbourhood of Old Maiduguri, individuals make charity donations in form foods and other consumables to help make visitors comfortable.
Aminu Abdullahi, an operative of the Civillan-JTF, said: "When we saw them coming with handpush-cart filled with food flasks, we thought they were normal people that usually come here.
"We almost passed them on when one of our members instinctively asked what the content of the large food flasks were, and they said 'hot rice to be delivered to the Sheik's guests'.
"All of us were almost deceived but when we insisted on seeing the flasks opened for proper inspection, the conveyors became jittery, and by the time we forced them to open the flask we were shocked to find coupled bombs in all the flasks."
Witnesses said the arrested culprits were all surrounded before they could escape and handed over to the soldiers in the neighbourhood.
The spokesman of the Borno state branch of the Vigilante Group of Nigeria, Muhammed Abba Gava, who confirmed the development said: "it was an act of God that those bombs were Intercepted on time: we have over 5000 people converging in Abdulfathi's mosque and who knows what could have become of them had those bombs detonated."
Security has been beefed up in most parts of Maiduguri ahead Christmas on Friday.