?Biafra: Judge withdraws from hearing treason charges against Kanu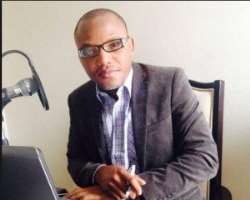 Justice Ahmed Mohammed of the Federal High Court in Abuja on Wednesday withdrew from the trial of pro-Biafra leader and founder of Biafra Radio, Nnamdi Kanu.
This followed an objection by Kanu, who spoke from the dock where he stood along with his two co-defendants, ‎saying that he lacked confidence of getting justice from the trial conducted by the judge.
Two other persons charged along with Kanu are ‎Benjamin Madubugwu and David Nwawuisi.
The judge upheld Kanu's objection saying that it was within his right to object to being tried before a judge or any court in which he had no confidence.
The arraignment of the accused persons scheduled for Wednesday was stalled, as the judge ruled that he would return the case file to the Chief Judge of the Federal High Court, Justice Ibrahim Auta, 'for further action.'
Sponsored Advert:
VACANCY! VACANCY!! VACANCY!!!
Job Position: Chief Accountant at an Agro-Allied Conglomerate in Delta State
Click here for details
The Director of Public Prosecution, Mr. Mohammed Diri, who filed fresh six counts including treasonable felony against Kanu and two others on Friday, asked the judge to dismiss Kanu's objection citing section 396(2) of the Administration of Criminal Justice Act 2015.
The provision of the law only allows a defendant to only raise an objection to the competence of the charges preferred against him‎ after he or she has taken his plea provided that his objection would be considered along with the substantive case.
But Justice Mohammed in dismissing the DPP's objection held that the type of objection raised by Kanu had nothing to do with the one contemplated under section 396 of the ACJ Act.
Kanu was led away by men of the Department of State Service after the Wednesday's proceedings.
The fresh case against Kanu was filed on Friday, barely 24 hours after another judge of the Abuja Division of the Federal High Court, Justice Adeniyi Ademola ordered Kanu's unconditional release from the custody of the Department of State Service.
Justice Ademola ordered the DSS to release Kanu unconditionally since there was no pending charges against him about two months after his detention.
But instead of releasing him, the Federal Government filed fresh charges against him on Friday.