Fuel Depots To Operate 24hrs As Ppmc Alleges Diversion Of 587 Trucks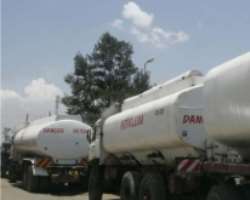 BEVERLY HILLS, December 23, (THEWILL) – About 387 trucks out of the 500 trucks that loaded fuel from Lagos to deliver to Abuja almost a week ago have disappeared in transit, thereby creating serious scarcity across the country. They have been diverted to other outlets where they are sold at higher, the Pipeline Products Marketing Company (PPMC) said Wednesday.
The 200 trucks that arrived between Sunday and Monday morning were able to do so through the help of the Department of State Security (DSS).
Esther Nnamdi-Ogbue, the managing director of the PPMC, said out of the 1 billion litres that was promised for this month about 800 million litres had arrived the country. She said it was from it that 587 trucks were loaded to Abuja on December 15, from Lagos out of which 200 had just arrived the town.
However, as part of efforts to ease the fuel scarcity in the country, she said all petroleum depots had been directed to operate for 24 hours so that there could be faster evacuation of the products to different states of the federation from the depots scattered across the coastal states.
She however said henceforth every truck would be tracked so that when they are doing anything illegal it could easily be checked.
According to her, government is determined to ensure that it puts this ugly situation behind during this festival period.
Reiterating her position on the fuel situation, Olufemi Olawore, executive secretary, Major Oil Marketers Association of Nigeria (MOMAN), said his association and the PPMC management had resolved to work together to ensure that the situation improved as soon as possible.
He told THEWILL that monitoring of both the filling stations and the tanker drivers was ongoing "now that the fuel taken from the depots gets to the designated place for such product.
"Work has started seriously in order to ensure supply at the right places, we are monitoring the trucks and they are also being tracked at their companies headquarters, while Petroleum Equalisation Fund (PEF) is also tracking those other individuals trucks that are not under the purview of MOMAN," he said.
He however said the slow process of documentation at the depots was causing delay as regards the time the trucks should leave the depots to their various destinations.
Meanwhile, some of those filling stations that have received fuel even in Lagos that is highly policed by the Department of Petroleum Resources (DPR) are selling at above the official price. In Ikorodu, Iyana Ipaja, Igando, Okota areas in Lagos, most filling stations sell at N120 per litre. While towns outside Lagos it sells between N130 and N150 per litre.