Again, Kim Kardashian's butt breaks the Internet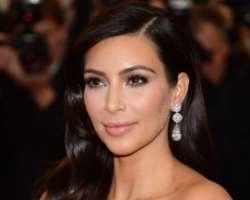 Kim Kardashian-West sent coders and developers scrambling this week.
On Monday, Kardashian launched an app for the Apple Inc. (NASDAQ: AAPL ) App Store called Kimoji. The iTunes store describes the app as giving "you access to 250+ exclusive emoji and sticker designs – along with an integrated QWERTY keyboard."
Like most things related to the reality television star, it received quite a bit of attention. So much so that the App Store actually crashed when it was released.
"It seems even the emoji adaptation of Kardashian's butt has Internet-breaking potential, because the heavy user traffic that ensued on the app store following "Kimoji's" release apparently caused Apple's entire app service to shutdown, taking the functionality of Kardashian's app along with it," . "According to Kardashian, interested downloaders were also having trouble locating "Kimoji" in the app store."
As of Tuesday morning, Apple's App Store appeared to be functioning as normal.
In November 2014, a bare-naked photo of Kardashian's backside helped coin the phrase "break the Internet." At the time, Paper Magazine , "For our winter issue, we gave ourselves one assignment: Break The Internet. There is no other person that we can think of who is up to the task than one Kim Kardashian West. A pop culture fascination able to generate headlines just by leaving her house, Kim is what makes the web tick."

Kim Kardashian's famous bum was covered in sand for her bikini shoot [E!]
The photo became an instant viral sensation.
However, it looks like these claims may be a little exaggerated. In a , Apple said "there were absolutely no issues with the App Store yesterday." The publication went on to say:
"The truth is, people were probably having issues finding the Kimoji app on the App Store because it takes time for Apple to properly index new applications for search. So unless you had a direct link to the app in the App Store, you wouldn't have been able to find it with a simple search. It's possible Apple prioritized indexing the app to ensure more people could find it by late Monday afternoon, but in no way did Kimoji "break" the App Store for any period of time."

Two men were needed for the strange job [E!]