Rivers APC Declares Buhari, Amaechi Men Of The Year 2015
....And Congratulates Dakaku, National Assembly Candidates For Appeal Court Victories....Demands Immediate Sack Of Dame Gesila Khan From INEC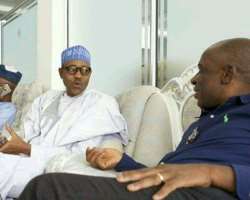 The Rivers State Chapter of the All Progressives Congress (APC) has declared President Muhammadu Buhari and Transportation Minister Chibuike Amaechi as Nigeria's Men of the Year 2015 in recognition of their roles in bringing about a new political order in the country.
"While it is true that many other chieftains and even ordinary members of APC contributed in various ways to the party's takeover of power from the Peoples Democratic Party (PDP), General Buhari served as the rallying point and the poster boy of the promised change," Rivers APC said in a statement signed by the Chairman, Dr. Davies Ibiamu Ikanya, and issued in Port Harcourt on Tuesday.
On Amaechi, the party said: "He practically put his life on the line to lead the infant APC in his capacity as Director General of the Buhari Presidential Campaign Organisation, to defeat PDP despite that corrupt party's virtually emptying the national treasury in its desperate bid to retain power, which it had held for 16 disastrous years."
Rivers APC said that Amaechi also proved to be made of sterner stuff by surviving the wicked machinations of Chief Nyesom Wike and his cohorts to be screened and sworn-in as a minister, noting that this is not a mean feat.
The party congratulated its governorship candidate, Dr. Dakuku Peterside, and National Assembly election candidates on their recent victories at the Court of Appeal, which have restored hope to Rivers people to elect their leaders in peaceful re-run elections to be held soon.
"We hereby ask the Independent National Electoral Commission (INEC) to immediately sack the Rivers State immediate past Resident Electoral Commissioner (REC), Dame Gesila Khan, who supervised the broad daylight robbery called elections and brought shame and embarrassment to INEC as allowing her to conduct any form of election in any part of Nigeria will be an invitation to anarchy. Removing her as INEC REC of Rivers State should not be enough until such a greedy woman is totally removed from our political system as she represents evil and bad omen to the future of Nigeria and the change mantra of this adminstration" Rivers APC said.
Long Live APC!
Long Live Rivers State!!
Long Live Federal Republic of Nigeria
Long Live President Muhammadu Buhari
Chief Eze Chukwuemeka Eze,
SSA Media and Public Affairs to the State Chairman, APC Rivers State.