Kachikwu orders deployment of NNPC staff on filed to monitor supply, check hoarding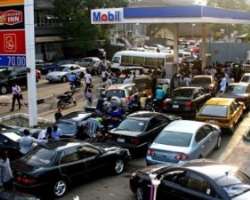 In a bid to ensure that the petrol is available to Nigerians in this festive period, the Minister of State for Petroleum Resources, Dr. Ibe Kachikwu, has ordered the deployment of staff of the Nigerian National Petroleum Corporation (NNPC) to filling stations to monitor supply of fuel and check hoarding.
The minister had earlier ordered special supply of the products to filling stations across the country to ensure a hitchfree Yuletide season.
Scarcity of petrol has persisted across the country for over one month, with long queues and rowdy crowd becoming new entrenched feature at dispensing stations
Kachikwu told top officials of the Corporation in Abuja during a meeting on Monday that there was the urgent need to monitor supply and distribution of fuel throughout the country.He directed to move to the present challenges of scarcity by ensuring that supplies are not diverted and hoarded.
NNPC spokesman, Ohi Alegbe, said in  a statement, the minister said that the present scarcity calls for "effective monitoring of the supply system, especially at the end points, to ascertain that what is trucked out from the depots is delivered at the designated fuel stations and dispensed to the public in the most efficient manner".
The minister was quoted as saying, "We need you to be out there to help achieve this; we can't be at ease while Nigerians are going through so much pain to get fuel."
The Group Executive Director, Commercial and Investment, Dr. Victor Adeniran, during the meeting called on field staff to work closely with the Rapid Response Team by reporting any bad situation for urgent intervention.
The field staff are to report low stock, delayed arrival of trucks or any underhand dealings to the Rapid Response Team who are drawn from the Pipelines and Product Marketing Company (PPMC), and law enforcement agencies.
Meanwhile the price of crude oil stood at $31.63, described as an 11-year-low. Reuters reports that the last time the OPEC basket stood at less than $32 was in the first quarter of 2004, when it traded at $31.32.