Naccima Kicks As Fg Increases Electricity Tariff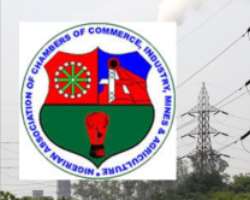 BEVERLY HILLS, December 21, (THEWILL) – National Association of Chambers of Commerce and Industry, Mines and Agriculture (NACCIMA) has cautioned the Federal Government on the increased electricity tariff.
THEWIL recalls that the Nigeria Electricity Regulatory Commission (NERC), regarding the increment of electricity tariff, said: "Although, the new tariff regimes come with an increase in energy charges, all electricity consumers (residential as well as commercial) will no longer pay fixed charges, so their total bills will depend on the electricity they actually consume and may be reduced when they conserve electricity."
As a result, Billy Gillis-Harry, national vice president of NACCIMA, warned in Abuja that there was the need to involve the stakeholders in deciding what the consumer would pay.
Gillis-Harry said it was not proper for the government or its agent to just wake up and say "this is what the consumer would pay on electricity without involving them. The decision should come from pool of opinion, every stakeholder should be part of it because the negative impact would be on all looking at economy."
He said before the proposal for the increase in tariff, consumers had been paying more than what they consume because of the compromise in the system.
"Actually, we do not need to muzzle Nigeria because for any policy or projection, ordinarily a minister should not be the one canvassing for that, there should be processes by which those cost should be evaluated.
"Whether we like it or not, we are paying more, because if your bill is N2000 you will discover that your consumption is not up to N1000. There is a compromise in the system, so when they gave that bulk of responsibility back to ordinary Nigerian, you are just trying to kill the zeal of that Nigerian to become somebody.
"We don't want Nigeria to be discouraged before the Federal Government take any policy decision. To make this increase they should work with the stakeholders and check what it is," he said
He said the country had passed the stage when anybody would wake up and say, "this is what I want to do. We need to know why you want to do it, what is the history, the reason why it has not happened or why it has failed, and we must be able to talk about it."
According to him Nigerians need to be told what is happening, we need to know what is happening, why we should do that and what is the expectation from such change.
"If we know that paying more for electricity will give power 24/7 which is better that using generator, we will be willing to pay," he said.
While commenting on the plan to remove subsidy on fuel he called on the government to tread it softly stressing that whatever decision being taken should impact positively on the populace.
"I believed that Nigerians are willing to embrace change for the value that will give them a better standard of living.
"You cannot wake up and say that you are removing subsidy in fuel. Yes, we are the ones advocating for it to give room for competition but there has to be a process for how it should be done not just a policy statement coming from a minister," he said.