Nlc President, Wabba Blames Abject Poverty, Illiteracy On Under-development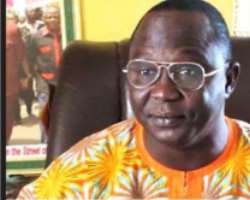 BEVERLY HILLS, December 21, (THEWILL) – The President of the Nigerian Labour Congress (NLC), Comrade Ayuba Wabba, Monday, blamed abject poverty and illiteracy among Nigerians on the nation's under-development, saying lack of focus by past leaders has brought the country to this abysmal level.
Wabba stated this in Maiduguri, the Borno State capital, at a civic reception organised in his honour by the State chapter of NLC, adding that lack of critical infrastructure like railway, power and roads are the bane of Nigeria`s underdevelopment.
According to Wabba, development can come to Nigeria under the atmosphere of peace, social justice and transparent government, stressing that the country will only attract the needed investment if there is peace.
The NLC President however praised the Federal Government for establishing the North-East Development Commission to ensure the reconstruction of the sub-region which had been devastated by Boko Haram.
"We believe that this will be quickest way of rebuilding the shattered infrastructure of the states in the North-east," he said as he urged the federal government to diversify the economy, stressing that dependence on oil as the main source of revenue is catastrophic.
He nonetheless disclosed that labour was ready to join hands with the federal government in developing the economy as a way of generating employment for the youths.
The Borno State chairman of the NLC, Comrade Titus Abana, in his welcome address, said the reception was to honour Wabba for his meritorious service to NLC in various capacities and for making the state proud.
Chairman of the occasion, Comrade Ali Chiroma, a former president of NLC, said Wabba has done the people of Borno state proud, as he is the second NLC President from the state.