Looting Of Funds Meant For Arms Procurement Landed Nigeria 'in Crisis'- Buhari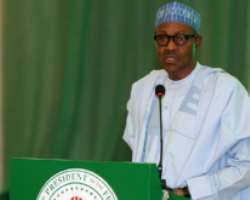 BEVERLY HILLS, December 21, (THEWILL) – President Muhammadu Buhari has noted that the siphoning of funds meant for the procurement of arms to boost the military's onslaught against Boko Haram insurgents under the immediate past administration is responsible for some of the challenges currently confronting the country.
Disclosing this on Monday while receiving the British Secretary of State for Defence, Michael Fallon in Abuja, Buhari revealed that his government was taking urgent and appropriate measures "to restore order, due process and probity to the procurement processes of the nation's armed forces".
THEWILL recalls that Buhari had constituted a panel which is probing the process of arms procurement in the military from 2007 to 2015. The panel indicted a former national security adviser, NSA, Sambo Dasuki, for allegedly awarding fictitious contracts and diverting about $2.1bn meant for arms purchase. Dasuki has however denied all the allegations.
A statement issued by his Special Adviser on Media and Publicity, Femi Adesina, quotes the President as regretting that the procurement of equipment for Nigeria's armed forces which used to follow due process in the past, was subjected to corruption and shady deals under the last administration.
"They just put foreign exchange in a briefcase and travelled to procure equipment for the military. That is why we have found ourselves in the crisis we are now facing," he stated.
While welcoming the offer by the British government to assist Nigeria in defence procurements, intelligence gathering and training, the President restated his conviction that the international community must collaborate more and work with greater unity of purpose to overcome global terrorism.
"Terrorism has become very sophisticated now. If developed nations can be attacked, and hundreds of lives lost, how much more developing countries?" he asked.
He added that: "In the West African sub-region, Nigeria is the main battleground of the Boko Haram insurgency. We have made a lot of progress against the terrorists, but we will welcome more assistance from our friends and the international community."
In an earlier remark, Fallon said he was in the country to see what more Britain could do to support Nigeria in battling terrorism and violent extremism, informing Buhari that "Groups like Boko Haram don't believe in democracy and freedom of choice, so it's a common fight for us all."