Spain's Mireia Lalaguna Royo Crowned Miss World 2015!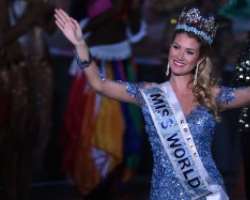 BEVERLY HILLS, December 21, (THEWILL) – All hope of Nigeria's Unoaku Anyadike bringing home the crown at this year's Miss World beauty pageant have been dashed completely as Spain's Mireia Lalaguna Royo has been crowned Miss World 2015.
The only African country that made it to the top 10 spot at the pageant was Miss South Africa alongside other beauty Queens including Russia, Philippines, Guyana, Lebanon, Indonesia, Jamaica, France and Spain.
Winners of other challenges during the contest are:
Beauty with a Purpose – Indonesia
Multimedia – Philippines
Sports and Fitness – Namibia
Talent – Guyana
Top Model – Spain
People's Choice Awards – Miss Vietnam
Speaking on why she should be crowned Miss World, Miss Spain said; "I think I should be the next Miss World because I believe in strong women, I also think I have something inside my heart that I always try to give the best of me. I also believe in Beauty With A Purpose and want to continue its legacy. We can find happiness in helping each other".