Obasanjo's Double-Standard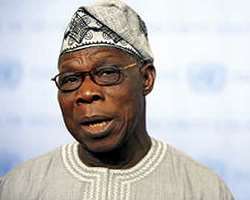 In the last couple of years, Obasanjo has being involving himself in amusing exercises. In the first instance, he's been passing passing himself off as a statesman; and secondly, he's been quietly and indirectly painting the government he forced on the good people of Nigeria as incompetent as not deserving accolade (the Jonathan government). It is on record that Obasanjo forced Musa Yar'adua and Jonathan on Nigerians in order for his ambition to know no bound.
Under him, the National Assembly became nothing but a mere rubber stamp to his excesses and whims. The judiciary and the Independent Electoral Commission were thoroughly compromised. Parading himself as a statesman is amusing because he, Obasanjo, can never in three lifetimes achieve such a status. A monkey can never reason like a human being. Whatever the governing failings and foibles of Buhari may be, they are, in many ways traceable to the undoing of Obasanjo.
To now condemn corruption, waste and inefficient when he was the grandpa of maladministration and poor governance is not only hypocritical, but also sinful.
Whatever is wrong with Nigeria today is, for the most part, Obasanjo's fault. It is his doing. Better said as undoing but to hear him in recent times, one would think this was a visionary leader. He was not. You'd think he had the interest of the country at heart.
He does not. And he is self-serving. This was and is still a man concerned with himself and himself alone. Since 1999, he's been hugely responsible for the 'gutterisation' of Nigeria. More than anyone in the recent history of Nigeria, he is wholly responsible for the economic and political rot the country has become.
When Obasanjo came to the national stage in 1999, the belief at home and abroad was 'here cometh the man to set Nigeria on the right path.' It was not to be. To be sure, he became something and somebody; but it was not the something and the somebody Nigeria has expected. He turned out to be a disaster. And today, he is wedged to Nigeria's throat. He is the clarion-eater swarming our streets.
During his tenure, what became of the Nigerian army and the maritime industry? What became of food production and food supply? What became of the manufacturing industry? How safe and reliable were water and power supply? Public secondary education and the university system were worse off in 2005 than in 1995. Many public buildings and infrastructure became death-traps. And even though he left the Presidency in 2007, the nightmare he wrought on the nation has not ended.
The Obasanjo government spent several billion of dollars on real and imaginary projects and with much of the money unaccounted for appropriately. And so, when you look at Obasanjo's second coming (1999-2007), one cannot but think of those years as the wasted years. Virtually everything that was bad about Nigeria was made worse during the reign of the OWU APE.
If Obasanjo had been a decent and effective President, we would not have has these many non-state actors and criminal enterprises threatening the sovereignty of Nigeria. We would not today be talking or writing about the fragility and the fragmentation of Nigeria.
Obasanjo's in competency may have helped to bring about the birth of the Boko Haram sect. Terrorism and criminality ge state under several conditions- amongst these are an acute sense of injustice, crushing poverty, hopelessness, the stifling of dreams and aspirations, political and economic exclusion and alienation from society or the nation. If the government does not care for you, you are likely not to care whether or not the government survives or prospers. Many of these and other factors have been present in Nigeria for a while. But under Obasanjo, things went from bad to bone-crushing excruciation.
In spite of Obasanjo's sins- and not minding the residual effects of several decades of bad governance- It is time for Maj. Gen. Buhari to sit up. It is not too late. The time is her and now to act like the President of Nigeria. It is his job and duty to meet and exceed the expectations of Nigerians. He should worry more about what history and posterity will say about him. From this day onward, he should outperform his current performance level. He should be the President!
Kazeem Olalekan Israel,
Ibadan, Nigeria.
Disclaimer:

"The views/contents expressed in this article are the sole responsibility of the author(s) and do not necessarily reflect those of The Nigerian Voice. The Nigerian Voice will not be responsible or liable for any inaccurate or incorrect statements contained in this article."