Imo Bilie Initiative Condemns The Use Of Hunger As An Instrument Of Governance In Imo State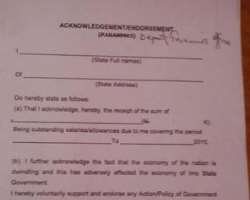 Imo Bilie Initiative (IBIN), a pro democracy watchdog in Imo state has expressed dissatisfaction to the use of hunger as an instrument of governance in Imo state. The Leader of the civil society organization, Comrd. Aku Obidinma (Abdul) while briefing journalists in Owerri said that yesterday the 17th of December 2015 marked yet another blue day to Imo workers who went to work only to be shocked by a form (without government letter head) issued to them by the government forcing them to accept to be fired without due process at any time the government wishes to.
The government also attached a condition that salaries will be paid only to those who have signed this form. This obnoxious action of the governor is also coming at a time when many other workers, for example the Health and allied units, judicial workers, parastatals to mention but a few have not been paid since May 2015, pensioners are owed up to 24 months arrears.
The governor has equally gone ahead to unilaterally cut the salaries of workers without recourse to due process and has concessioned the general hospitals in the state even when the industrial arbitration court ordered him not to. IBIN is worried by the actions of the governor which suggests he may have declared war on Imo people, even though he continues to mock the people with his now unpopular "My people my people" slogan. Imo Bilie Initiative therefore condemn in the strongest term this oppression, intimidation and victimization of Imo workers using the instrument of hunger and poverty.
It was recently rumoured that the governor claimed to have conquered all sectors of Imo except labour, hence the use of hunger to conquer them. It is more baffling that despite the 26 billion Naira the state got from the bailout fund yet the governor cannot clear a wage bill and arrears that is not up to 10 billion Naira.
The director called on the labour leaders and workers in the state to reject signing this form which not only violates all ILO conventions but appear to be a 21st century slavery tactics. The governor should immediately withdraw this form which insults the intelligence, integrity and security of the Imo worker. The governor should know that a hungry man is an angry man and apply caution in his high handedness against the workers so as not to push them to the wall.