Cynthia Shalom wins Next Movie Star 2015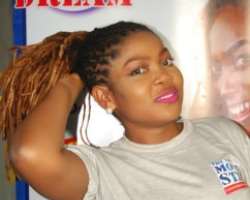 27-year old Cynthia Shalom has emerged the winner of the 2015 edition of the Next Movie Star. The budding Nigerian actress, model and dance instructor beat 15 other housemates to emerge winner of the coveted crown and is set to smile home with a brand new SUV, management deal, movie contract for three years and mouthwatering wardrobe allowance.
Speaking on her success, Cynthia said: 'I'm very happy and excited. It's a humbling experience emerging winner of Next Movie Star 2015.
Getting the form from the beginning, going for audition, getting picked, came to the house for the show, now I'm the winner, I have all reasons to be happy and excited.'
When asked if she anticipated that she would win at any point, she said: 'No, because all the people that went for the audition, both in Ghana, Kenya and Nigeria, were talented. When we got into the house, I saw different talents but I think what gave me an edge over them was my versatility.
I'm a dancer, singer, instructor, a good cook and model. But before I moved down here, I said to myself, it is either I win or nothing at all.'The Next Movie Star Reality TV Show has over the years discovered successful stars in the African entertainment Industry since it berthed in 2005.
Sponsored Advert:
VACANCY! VACANCY!! VACANCY!!!
Job Position: Chief Accountant at an Agro-Allied Conglomerate in Delta State
Click here for details
Those who have passed through the platform include Tonto Dikeh, Annie Idibia, Kevin Chuwang Pam, PortiaYamahan, Uti Nwachukwu, Lydia Forson, Karen Igho, Tamara Eteimo, Tomiwa Kukoyi, Halimat
Aitsegame, Boma Mac Ake, Zerziyia Wilson and others….