FG Picks Total, Eni, Varo, Cepsa To Refine Crude Oil For Nigeria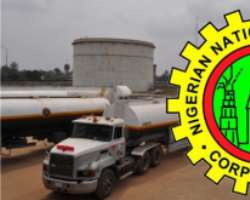 SAN FRANCISCO, December 19, (THEWILL) – Indications emerged yesterday that the Nigerian National Petroleum Corporation, NNPC, will enter into a new crude for oil products swap agreements with Total, Varo Energy, Cepsa and ENI, come February.
The Head of NNPC's crude marketing unit, Mele Kyari explained that the federal government will, through the NNPC, engage the companies for the swap deal which shows government as moving away from the former "offshore processing" agreements.
Also speaking, the Head of Corporate Planning in the NNPC, Bello Rabiu stressed that there was no need to budget money for fuel subsidies in 2016, as the country can reduce the cost of imported fuel below the current retail price.
Assuring that, "In the next 12 months, the price of oil will definitely not be high," he noted that "securing the pipeline systems, removing the corrupt issues and ensuring that we pay only for what we consume. If we can get all these stages done, that will eliminate any call for subsidy in the next few months."
The initial bidding process for crude swap agreements had been cancelled by the NNPC in November, opting to work with 14 refiners that could process the oil themselves in order to eliminate middlemen.
Varo Energy is a joint venture refining company between global oil trader Vitol and private equity firm Carlyle Group. Cepsa, ENI and Total are all integrated oil companies with refineries in Europe.
The corporation reached interim swap agreements in September with its trading subsidiary Duke Oil and NNPC joint-venture companies Calson, which is with Vitol, and Napoil, which is with commodities trader Trafigura. But, these could be extended as NNPC works to finalise the details of the new swaps.
Despite the oil corporation's anticipation of producing 30 percent of its own petroleum in 2016, there were reports that the nation's four ageing oil refineries produced nothing in October.
Aside the swap arrangement, Nigeria also relies on an import subsidy scheme that is itself expensive. The country has always struggled to meet up with timely subsidy payments to traders due to the sharp drop in crude oil prices that have hammered its revenue, resulting in regular fuel shortages, including for much of the past month.
Reacting to this, Rabiu disclosed that the NNPC would create a new framework for fuel imports that could reduce the cost of delivering fuel to stations by 10-15 naira per litre, which would bring the product below the price cap N87 per litre and eliminate the need to pay subsidies.
Speaking on the volume of petrol the nation consumes on a daily basis, he said: "We don't know even what the country consumes…what we have seen, based on figures that were sent to the National Assembly, we consume 50-55 million litres per day. But many people don't believe that's correct."
Rabiu, who however noted that the figure stands between 35-40 million litres per day based on monitoring of truck flows, added that a vital points in the product pipelines network would also reduce the expensive use of trucks. He revealed that the pipeline out of Atlas Cove in Lagos has recently been restarted.
Meanwhile, the nation's refineries are also expected to re-start, starting with Kaduna, which is expected to start ramping up on Saturday and will add 1-2 million litres of petroleum per day.