Naira continues free fall, slides to N280 against dollar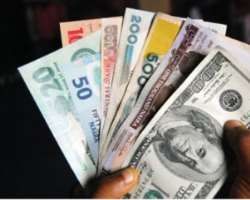 The Naira continued its free fall on Thursday, crashing to N280 against the United States dollar at the parallel market. The greenback sold as much as N275 on Wednesday.
The naira, which had been trading around 241 and 243 against the greenback for a long time, began a steady decline about three weeks ago when the Central Bank of Nigeria stopped the sale of foreign exchange to over 1,600 Bureaux De Change operators due to improper documentation.
On Wednesday, however, the CBN cut the amount it sold to each of the 2,270 BDCs that participated in the weekly forex sale to $10,000, down from the $30,000 it sold to them last week.
While the central bank sold $84.5m to the BDCs last week, the amount was reduced to $23m on Wednesday.
According to analysts, the significant cut in forex supply to the BDCs coupled with the existing huge unmet demand at the CBN official window has led to the recent pressure on the naira at the parallel market.
Sponsored Advert:
VACANCY! VACANCY!! VACANCY!!!
Job Position: Chief Accountant at an Agro-Allied Conglomerate in Delta State
Click here for details
Businesses have been struggling to access dollars as the CBN rations the greenback to preserve the country's external reserves, which stood at $29.46bn as of December 15.
Analysts said the continued fall of the naira against the US currency at the black market could cause further inflation and affect businesses negatively with much backlash for the economy.
At the official interbank market, the currency has been pegged since February and closed at 196.97 on Wednesday.
Economic and financial experts have linked the continued fall of the naira at the parallel market to several reasons, ranging from the administrative controls imposed by the central bank to the speculative demand for the dollar by individuals and businesses.
They, however, said that unless the CBN took major steps to address the situation as soon as possible, the naira might be headed for 300 against the dollar.
A number of economists, who spoke to our correspondent on Thursday, said the devaluation of the naira was inevitable.
'Naira at 280 against the dollar at the parallel market is more speculative than being market-driven. The reason for this continued fall can be linked to a combination of factors. Well, the naira should find its equilibrium,' the Chief Executive Officer, Financial Derivatives Limited, Mr. Bismarck Rewane, said.