Leave Nigeria Within Seven Days, Group Tells Tony Blair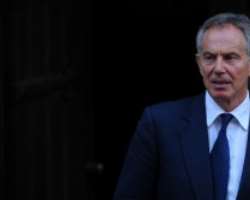 BEVERLY HILLS, December 17, (THEWILL) – A rights group, Coalition For Human Rights Advocacy And Social Action (COHRASA), has given a seven-day ultimatum to former British Prime Minister, Tony Blair, to leave Nigeria.
Accusing the former British Prime Minister of planning to "steal" and "loot" from Nigeria, the group in a statement signed by its Coordinator, Comrade Jeremiah Olatinwo, on Thursday, said: "Nigerians were greeted with shock to read about Britain's former Prime Minister's visit to Nigeria to meet with the Nigerian Governor's Forum. We see this development, camouflaged in the facade of advisory as an effort to loot and steal from the treasury of the 36 states of the federation.
"Vividly, we recall an 18th April 2015 publication of UK's daily newspaper, The Telegraph, which revealed how Mr. Tony Blair rips nations of billions of dollars through fraudulent advisory services. Countries that have fell victim to his venture include Colombia, United Arab Emirates, Kazakhstan and Albania among others."
"The siphonage is covertly and stealthily done in such a way as to conceal details or trace any financial commitment of his client to him."
"It is in lieu of this that we invoke the letters and spirit of the Freedom of Information Act of 2011 and demand the Federal Government and the Nigerian Governor's Forum to publish the details of every transaction with this envoy for the purpose of transparency in accordance to zero-tolerance to corruption for public consumption."
"We enjoin labour unions and civil liberties organisations to join in this request for total transparency in Federal Government's dealing with Tony Blair, his foundation and his consultancy firm."
"Mr. Tony Blair is also warned to take his racket outfit away from Nigeria and steer clear of our borders within seven days. Failure to do this, Nigerian masses shall be mobilised to occupy the Presidential Villa, Abuja."