Bayelsa Guber: Sylva Is In The Race To Win – Aide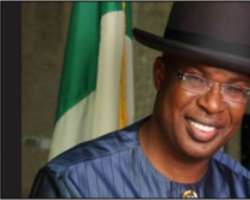 SAN FRANCISCO, December 17, (THEWILL) – The governorship candidate of All Progressives Congress (APC) in Bayelsa State, Chief Timipre Sylva, has said those sowing fabrications about his withdrawal from the suspended governorship contest were engaging in a failed effort to save their principal, the candidate of Peoples Democratic Party (PDP), Hon. Henry Seriake Dickson, from what he described as a "sure and imminent defeat."
Sylva, who spoke in Yenagoa on Thursday through his media adviser, Mr. Doifie Buokoribo, advised Dickson to stop dissipating energy on what he called falsehood, hypocrisy, and deceit.
"Dickson should wait for the outcome of the governorship election and try to control his outbursts of fear and deceit, which cannot sway any Bayelsan, as the people already know better," Buokoribo said in the statement.
The statement added, "The falsehood about Sylva's withdrawal from the governorship contest that Dickson had tried to mar with his uncivilised vituperations and open call to violence is part of the same strategy of deceit and violence, which Dickson and PDP have employed since the beginning of the election process.
"In lie after lie, which we have roundly exposed, Dickson has shown that he has nothing other than deception to offer the people of Bayelsa in the on-going election. This latest chicanery about Sylva's withdrawal, like the others before it, will not give Dickson any reprieve from the sure and imminent defeat awaiting him.
"Sylva has no reason to withdraw from the election he is poised to win. In fact, the matter has gone beyond Sylva. The people of Bayelsa State have bonded in a mass movement determined to make Dickson's maladministration history. The issue is now between Dickson and the mass of the people who have resolved to vote him out. Little wonder he resorted to sponsorship of violence during the election, knowing he cannot win a peaceful contest in the state he has misruled for nearly four years.
"Dickson's has achieved a remarkable notoriety for spreading lies about Sylva, using certain political newsletters masquerading as online newspapers, and sponsoring ridiculous suits on the on-going election. He has also set up a kangaroo commission of inquiry to try to divert attention from his crimes against Bayelsa people in the last few weeks. All these will fail.
"Sylva is at peace with himself and the Bayelsa people, as they patiently wait for the stilling of the violent storms initiated by Dickson and his co-travellers on the destructive path of political savagery, to take over power on 14 February 2016."