Governor Ugwuanyi and testimonies of people-centred leadership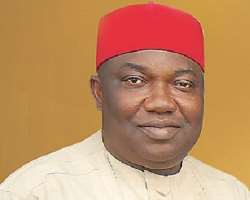 By Keneth Chibundu
Six months in the saddle, Governor Ifeanyi Ugwuanyi has continued to exhibit uncommon dexterity in handling statecraft. He does it as if he is no first-timer as the governor of Enugu State. Most discerning personalities who have inter-phased with him in his numerous engagements with individuals, groups, corporate bodies, easily expressed the same sentiment.
On some of those occasions, those of them who met the governor for the first time became visibly enthralled by his awe-inspiring person¬ality wrapped in the smooth art of successful engagement and navigation through knotty matters between state and individuals or groups of individuals without leaving any perceivable ego-bruising on the psyche of any of the parties involved.
However, those who have followed his track record through his 12 years at the National As¬sembly have on several occasions offered expla¬nations that he honed this enviable skill in the House of Representatives where he was unar-guably omnipresent in most major moves that shaped the Green Chambers of the National As¬sembly . Although members of his audience have severally given verdicts confirming his attributes as a 'first-time prodigy' in the way he has made the art of governance so malleable as if all matters he handles have been rid of the usual hairsplitting properties of knotty state matters that make other governors develop migraine disorder.
In this edition of From My Observatory, we offer our esteemed readers excerpts from some assessments of the governor from some reli¬gious, political and opinion leaders which have been christened uncommon verdicts:
Sponsored Advert:
VACANCY! VACANCY!! VACANCY!!!
Job Position: Chief Accountant at an Agro-Allied Conglomerate in Delta State
Click here for details
The Catholic Bishop of Nsukka Diocese, Enu¬gu State, Most Rev. Godfrey Onah in an address penultimate week during a civic reception for the governor at Nsukka addressed the governor thus:
'It is still less than six months since the begin¬ning of your stewardship as the governor of Enu¬gu State. It is, therefore, still too early to indulge in any meaningful performance assessment, despite all the glib talk about 'hitting the ground running' and the storm of hype that usually sur¬rounds the 'first 100 days in office' of public of¬fice holders in this country. Nevertheless, the few times I have been able to interact with you con¬cerning your office, I was able to perceive clarity of thought, sharpness of focus, resoluteness of purpose and, of course, deep genuine compas¬sion for the people of Enugu State; all these held together by your firm faith in the guiding hands of divine Providence. In addition, from some of your acts of governance so far, it may be possible to see the direction in which you want to lead the State. We pray that you keep your gaze fixed on your goal, with the Cross of Christ as your com¬pass. Criticism and complaints, just or unjust, es¬pecially from us your closer brothers and sisters, will always be useful to you. They will help you review your strategies and programmes, to see whether the people are still at the centre of it all. But 'if you please everybody, you have failed', I once heard you say. May I add that not even God in his omnipotence can please everybody. Do not attempt to be greater than God. Just be Governor Ifeanyi Ugwuanyi. But in discharging your duties as governor, never forget that governance is for the good of the people. While we continue to ask you to give us omelette without breaking an egg and suya without killing a cow, bear in mind that it is a mark of a good leader to be able to decide, in each case, what will be best for everybody in the State, even after many years.'
Rev. Fr. Ejike Mbaka, the fiery Catholic priest domiciled in Enugu has on more than two occa¬sions given what many observers regard as a real uncommon verdict on a governor. He, hitherto was known to have been literally a bone in the throat of Governor Ugwuanyi's predecessors. But in a recent homily during a Mass to mark the beginning of the legal year in the state, he declared unequivocally from his fiery pulpit that 'the emergence of Governor Ifeanyi Ugwuanyi is a prayer answered for the people of Enugu State.' The charismatic priest noted that al¬though Enugu, 'exploded' in celebrations when Ugwuanyi emerged governor of the state, the governor needed Divine protection to excel in of¬fice. He however, enjoined him to always follow the plans of God in order for him to execute his programmes successfully.
He spoke to the governor thus: 'You are a prayer answered for the people of the state, but you need the protection of God to execute the good plans you have for the people.'
Most Rev.Dr. Emmanuel Chukwuma, the vo¬cal Arch-Bishop of Enugu Ecclesiastical Prov¬ince, Anglican Communion, on November 27 during the burial ceremony of late Mrs. Nnenna Nnamani, wife of the former governor of the state, Dr. Chimaroke Nnamani commended Gov¬ernor Ugwuanyi for rebuilding and reconstruct¬ing legacies by starting work on the long aban¬doned International Conference Centre (ICC), Enugu. Chukwuma also applauded Ugwuanyi for flagging off and starting work on the long ne¬glected Opi - Nsukka Road in the state. He said these two giant strides, among the various proj¬ects the governor has embarked on showed he is a man on a mission to leave indelible legacies.
He thanked God that Governor Ugwuanyi is creating an atmosphere for reconciliation and re¬spect for human dignity in the state, adding that in such a short time, his administration has created enormous conducive atmosphere for peaceful co-existence among the people of the state.
To cap the outpouring of accolades for the governor in tribute for his disarming person¬able mien, former minister of information, Chief Nnia Nwodo, Deputy Senate President, Senator Ike Ekweremadu, and former minister of power, Prof. Barth Nnaji, on November 28 during a stakeholders' meeting in Enugu, tendered glaring testimonies to the governor's positive deft moves in governance in the past six months. They led the people of their respective senatorial zones in handing down a clean bill of health to the gov¬ernor.