N4LIFE'S ICECAPADE to be held 31st JULY 2010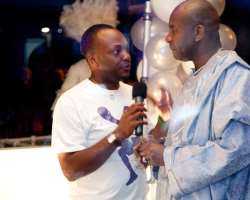 N4LIFE Entertainment has officially announced the date for its prestigious annual 'Ice & White' event 'ICECAPADE' as Saturday 31st July 2010.
ICECAPADE is an 'Ice & White' themed event known for its style and sophistication, attracting trendsetters, celebrities, and lovers of entertainment alike.
Last year's event gathered significant media attention, and this year promises to be even more grand and ambitious in design as N4LIFE honours the Nigerian Golden Jubilee with an 'ce, White & GOLD' theme. Guests this year will experience the glamour and glitz previous guests have not stopped revelling about. Although N4LIFE is championing the Gold theme for ICECAPADE 2010, ICECAPADE is still firmly a 'White' party and guests can wear White, Silver or Gold or a combination of all colours.
African Entertainment has evolved tremendously, and at N4LIFE we present entertainment in a unique way by tapping into our creative minds and providing a platform for our guests to also do the same said Ace Adegoke, CEO of N4LIFE Entertainment. We are looking forward to another exciting night complete with acts, entertainment, music, glamour, and much more.
Further details of what to expect from ICECAPADE 2010 will be made known later this month, including the venue, which will be a prestigious location set in the heart of London city.
Last year was a sold out event. Those anxious to secure a ticket and not miss what is billed as the event of the year will have to wait until 1st of May when tickets go on sale publicly. However, to avoid any disappointment guests are advised to buy their tickets as early as possible.
N4LIFE Entertainment has become one of the most respected African entertainment organisations for their high stan dards and unique ways. They show their passion for celebration by creating exceptional experiences that their guests will never forget and they constantly achieve new heights in celebration and glamour.
This year, Saturday 31st July, the N4LIFE team dares you to be BOLD, with style... at ICECAPADE 2010.
WWW.NIGERIAFILMS.COM
Story by nollywoodgists.com