Boko Haram: NEMA 18,678 Nigerian Returnees From Cameroon, Central Africa…Official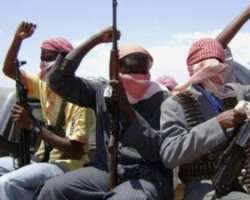 The National Emergency Management Agency (NEMA) on Wednesday confirmed that it has received a total of 18,678 Nigerians who returned from Central African and Cameroon Republics.
Alhaji Sa'ad Bello, the agency coordinator in Adamawa confirmed the development while receiving additional 1,178 returnees at Fufore Internally Displaced camp in Adamawa.
According to the coordinator majority of the returnees were women and children.
"Today we received additional 1,178 Nigerians who initially escaped from Boko Haram attacks to Cameroon Republic.
"Among them are those from Central African Republic who also escaped from the political crisis that engulfed the country."
And that bring the total of 18,678 Nigerians received, while some are still at Nigeria –Cameroon boarder." Bello said. He said that as soon the security operatives complete screening of those at the boarder they would be transported to Yola and camped.
He said ninety per cent of the returnees were indigenes of Borno state.