Anxiety Over Kidnap Of Muma Gee's Husband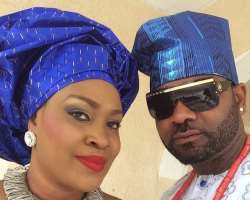 It's been 10 days since the actor husband of Nigerian musician, Muma Gee, Prince Eke, was reportedly abducted along Port Harcourt-Owerri road. The tall and handsome actor was precisely kidnapped on Saturday December 5, 2015.
However, his ?safety and whereabouts still remain unknown and this has caused panic among his family members and fans.
Muma Gee was reportedly quoted to have said her last contact with her husband's abductors was on Monday, December 7.
According to the mother of a set of twin, the kidnappers demanded N15million ransom and threatened to bury the father of her children alive if the money is not provided by Thursday, December 10.