Lost Under Wike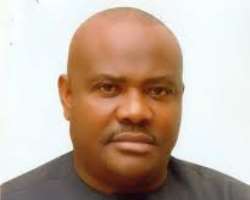 "One of the penalties for refusing to participate in politics is that you end up being governed by your inferiors." - Plato
One of the burdens of bad leadership in Nigeria is the intentional or unintentional demolition of pro-people policies and developmental projects. The present Governor of Rivers State, Chief Barr. Nyesom Wike has shown nothing but bad leadership since he controversially resumed office. For the past six months, our dear state has been embroiled in an unending charade of abolishment.
The first casualties of Wike's Hitler styled regime, are the 300 Rivers State Polytechnic lecturers that were sacked. The reason for their sack is simply because they were employed by the former Governor of Rivers State, Rt. Hon. Chibuike Rotimi Amaechi, before he left office.
The second victims of Wike's social invasion are the management and staff of Timariv. The traffic control and monitoring Agency of the Rivers State Ministry of Transport was disbanded without any worthy explanation or any form of palliative framework for the sacked citizens. So many staff of Timariv protested to no avail: the Governor doesn't care, he is on a pull down mission.
From the abandonment of Buguma Fish farm, cancellation of overseas scholarship for Rivers Students, closure of Songhai farm, cancellation of Rivers State Carnival (Carniriv), to the dis-continuation of the Port Harcourt Discount Sales Market and many more random show of indiscretion, it is now abundantly clear that the embattled Governor, is on a 'political cleansing' mission, perhaps, in apprehension of being sacked from office sooner than later.
But be it as it may, the people of Rivers State must ensure that they appropriately chronicle the social and political degradation which is unfortunately the trademark of Wike's administration, and that of the PDP at large. We must remain vigilant in defence of our sanity, because, the time to vote has come again. A rerun election is by the corner, and we must reject those with the natural instincts for evil.
Finally, in the words of Israelmore Ayivor: "Say "no" to corruption; it does not fit you! Say "no" to bad leadership; you don't fit there. Say "no" to immorality; it will only fake you! Be bold to say "no" if that is what will take your breakfast away; you will get a sweeter lunch pack for compensation sooner."
Solomon Okocha, Spokesman, The Patriots Alliance (TPA)
Disclaimer:

"The views/contents expressed in this article are the sole responsibility of the author(s) and do not necessarily reflect those of The Nigerian Voice. The Nigerian Voice will not be responsible or liable for any inaccurate or incorrect statements contained in this article."