PROPHECY… A GIFT BEYOND HUMAN IMAGINATION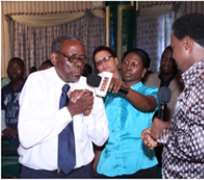 "This Is A Shock!"
Getting to the bottom of people's problems was prevalent when T.B. Joshua also known as 'the man in the Synagogue' gave personal prophetic messages to many in his service at The Synagogue, Church Of All Nations who had almost given up hope. It was just the soothing medicine Archbishop Andrew Ndubano from Botswana needed. T.B. Joshua explained his situation in a prophecy that Ndubano was a man of God but that he wanted to abandon the ministry after three ministers who had been under him went to the river for baptism and drowned.
Ndubano got to the point where he almost gave up hope and it was at that point that God used T.B. Joshua to speak life into his hopeless situation through the message of prophecy. T.B. Joshua started the prophecy with the encouraging words, "Don't give up. God loves you." He continued, "I know you are facing so much destruction and they are giving you a name that you use evil powers. You are in between decision – to leave the ministry and rest. You have many branches. You have got to a crossroads. Don't give up." Shocked by the accurate word of prophecy from a man he had never spoken to before but who stated the events exactly as they had occurred in his life, Ndubano, overcome by emotion, broke down in tears in front of The SCOAN congregation.
Picking up in the spirit the thoughts of his heart, T.B. Joshua asked Ndubano, "What is the cause of these thoughts? Ndubano responded, "They said they will kill me." Reassuringly, T.B. Joshua said, "I'm seeing you as a minister of God. What happened has happened. There's no trace of evil from you". The prophecy was the salve for every sore that Ndubano had suffered. God in His infinite mercy had used one of His servants, Prophet T.B. Joshua to vindicate another of His servants – Archbishop Ndubano.
Later during the service, T.B. Joshua conducted an exclusive interview with Ndubano, the latter's wife at his side. Viewers worldwide who tuned into Emmanuel TV saw written on their television screens clearly who the man T.B. Joshua was interviewing, live, "Archbishop Andrew Ndubano of St Johns Apostolic Faith Ministry, Botswana." In talking to Ndubano, T.B. Joshua addressed the family of the three ministers that died in the unfortunate incident, "The three pastors the case concerns – we know they have families and I want to invite the families. I know in Botswana they will be watching. I want to be part of the families. I want to tell them we love them. Thank God the three pastors died as Martyrs. I want to give an invitation to the families for a full reconciliation." T.B. Joshua also said that he wanted the families to come for counselling.
Ndubano's response: "I just want to point out that I was just in the midst. I'd not met the Prophet before. He just picked me out from the crowd. This is a shock. He just picked me out and said, 'You're a man of God.' My conscience is free; I'm no longer bound in chains. I am very pleased because the people he invited believe in the prophecy of the Holy Spirit. Prophecy is never a lie". Sharing her husband's joy, Ndubano's wife said, "Glory be to God. I'm happy because my husband is free."
Having reached a crossroads, Ndubano was no longer in between decisions. Thanks to the prophecy which declared him innocent of the accusation levelled against him, he decided not to abandon the ministry. It was a lesson to all those watching that, "Anything close to Jesus receives attack" and that, "No matter how close we are to Jesus, there are some unchangeable events that prayer and fasting cannot change. Just as fire cannot destroy gold, so also, hard times cannot destroy you as a Christian." – T.B. Joshua.