Rocky Dawuni in historic​ nomination for 58th​ Grammy Awards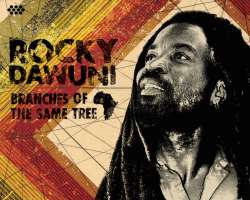 Branches of The Same Tree, the latest album of the celebrated Ghanaian Afro roots artist Rocky Dawuni has been nominated for a Grammy award under the Best Reggae Album category in the 2016 Grammy awards. The Grammy Award which was originally called Gramophone Award first begun in 1959 in the USA.
The album, which is Rocky's sixth studio album was released in March 2015 on Cumbancha . The artiste embarked on international tours to promote ​the album throughout the year that took him to countries like Denmark, Germany, Greenland, Iceland, the UK, Canada and across the USA where he makes his second home.
In an interview with #TheAfricanDream from his Los Angeles base in the USA, Rocky told this writer that he is: "humbled by the Grammy nomination. It is a victory for all great Ghanaian musicians upon whose shoulders I have nurtured my inspiration. It's a good day for Africa and positive music​ too​."
On December 18, 2015, Dawuni will perform at his "Homecoming Concert and Album Celebration" concert at Alliance Francaise in Accra, the capital city of Ghana; his home country. He will be joined by acclaimed Ghanaian
​and African award ​
winning artiste Wiyaala and others.​
A few other globally recognized artistes with African lineage that were also nominated in the 2016 Grammys include The Weeknd, of which Canadian born Ethiopian musician Abel Tesfaye is ​a ​member. They were nominated 8 times, one under the R&B category for their song Earned It which was sang by Tesfaye in the sound track for the movie Fifty Shades of Gray.
Under rap song of the year, the single All Day from the seventh studio album by Kanye West titled SWISH also earned a Grammy nomination. Kanye credited over 20 artistes for writing songs on this album, one of which is Victor Kwesi Mensah​ popularly known as Vic Mensah;​ a Chicago Illinois based hip hop artiste with a Ghanaian father.
Two time Grammy winning artiste Angelique Kidjo from the West African nation of Benin first won a Grammy in 2008 for her eighth studio album titled Djin Djin, then again in 2014 at the 57th annual Grammy Awards for her album Eve​​ in the World Music category. She gets another taste as she is this year nominated again!
Rocky Dawuni's first Grammy nomination which makes him the first Ghanaian nominated in ​his​ genre also finds him competing for the prestigious global award with Reggae greats like Morgan Heritage, Jah Cure, Barrington Levy, and Luciano. Winners will finally be announced at the Staples Center in Los Angeles, USA​,​ on Monday​ ​February 15, 2016 during the 58th annual Grammy Awards.
American artiste Kendrick Lamar strongly leads the 58th Grammy nominations with 11 potential awards, he is followed by his compatriot Taylor Swift who is trailed by ​the multinational group The Weeknd. Find the full list of nominees here: http://www.miamiherald.com/entertainment/music-news-reviews/article48409880.html