Buhari fast loosing direction, says Fasehun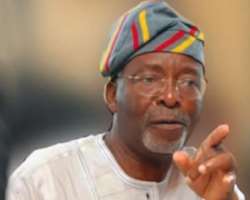 The National Chairman of the Unity Party of Nigeria, and founder of Oodua People's Congress (OPC), Frederick Fasehun has said President Muhammadu Buhari is fast loosing focus with his administration.
Fasehun, in a statement, expressed disappointment over the present administration which he said seemed like an experience of hope but has now dashed the expectations of Nigerians.
He condemned Buhari's incessant trips all over the world describing it as a huge distraction which would derail his development plans.
He called on Buhari to desist from chasing shadows and face the issues facing Nigerians rather than gallivanting from one country to another without adequate attention to the immediate issues bothering the country.
Fasehun said: "The President is missing in action. Initially, we said Nigeria under Buhari was flying in autopilot but now the country has receded into 'sabbaticals', with no petrol, no jobs, no power, no salaries, and people are waiting for their President to give them a Happy New Year, especially when the time comes to pay children's school fees in the new year.
"Nigerians are concerned about the lingering insecurity, the missing Chibok girls, the puzzling fuel shortage, unemployment, galloping inflation, the falling value of the naira, the dwindling value of stocks in the capital market, the power crisis and so on.
"The government should concentrate on finding solutions to all these and stop this futile chasing of shadows."
The party leader also condemned Buhari's Anti-corruption war where members of the ruling party are tagged "saints" and the opposition evil and corrupt, adding that any attempt by the All Progressives Congress, APC,-led Federal Government to suppress the opposition would fail.
"The continued covering of APC politicians widely seen as corrupt shows that the so-called fight against corruption is merely a witch-hunt aimed at the opposition," he said.