Governor Ambode's Nice Gesture To The Police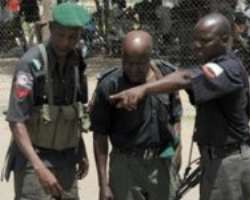 I am an advocate of decentralizing policing in Nigeria. I thank Governor Ambode for introducing a differently painted police patrol vehicles for the Lagos State Police Command. Two police officers will be assigned a patrol car since the rear which is usually demarcated is reserved for suspects or prisoners.
In the United States and other countries in the civilized world, owning a driver's license is one of the requirements during recruitment of Police officers. The recruits are also given additional training on police driving methods in the college.
My fear is that due to corruption and gross mismanagement of resources in the Nigeria police, Governor Ambode's gesture may turn a curse to Nigeria public. Some Police officers who have never driven before will learn to drive with these cars. In case of any accident with civilians, espirit de corp will turn the civilian the faulty party. Let us wait one year and find out how many of these vehicles are still operational. A Police officer that knows that Lagos State is his or her final bus stop will be more careful with the car than the one who knows he or she could leave the state on transfer any moment.
Sooner or later, we will start seeing these vehicles at Oyingho and other market places with their trunks/boot open, loading plantain, garri, life chicken and other sorts of grocery with the wife of an Officer or female friend sitting at the front seat. We will start seeing these cars transporting Police officers families and friends to mosques, churches and social functions.
These are conducive environments for car thieves. In the United States, stealing Police cars is common among juveniles/teenagers who want to go for jolly rides. In Nigeria, it will be the target of armed robbers and kidnappers. Secondly, since only two Police officers could be assigned a car. It is easier for one to convince the other for them to use the vehicle for a dirty job like transporting a kidnapped victim out of Lagos State. Police corruption requires only two elements: opportunity and greed.
It is the responsibility of patriotic citizen to make sure this does not happen. Any patriotic citizen that sees any of these cars outside Lagos State should do anything possible to damage the car, without injuring the occupants. It will serve as a lesson to both corrupt Police Officers and criminals that Ambode's cars are for Lagos State only. The patriot should contact a lawyer before calling the police and should make sure a couple of journalists are at the station.
As soon as the case appears in the newspaper, financial assistance will start flowing from Diasporans. We have all witnessed the vibrancy of the Biafra protest which is being financed by very few Ndigbo outside the country.
Other states will soon start copying Lagos State and if the society keeps quiet as we are doing with things like police checkpoints, indiscriminate arrests and tinted car permits, we will start seeing other states marked Police cars invading our neighbourhoods. The earlier we make our corrupt Police officers and criminals know that we as a society can no longer tolerate some of their behaviours, the sooner our society becomes a better place to live.
EMMANUEL IZUCHUKWU
Otolo-Nnewi
08177223055, 08125749952
[email protected]
Disclaimer:

"The views/contents expressed in this article are the sole responsibility of the author(s) and do not necessarily reflect those of The Nigerian Voice. The Nigerian Voice will not be responsible or liable for any inaccurate or incorrect statements contained in this article."