I Can Never be a Second Wife to Any Man…Actress, Favour Oma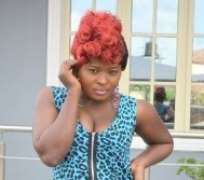 With various rumours of some actresses having an affair with some actors, some actresses are still of the opinion that they can't go down with any of their colleagues in the industry and Nollywood actress, Favour Oma, is one personality with a difference.
The fast rising actress in a chat with Vanguard explained that rather than date an actor, she would prefer having them as friends because she will not be able to withstand jealousy.
According to her, "If you are dating an actor, you should be ready to handle jealousy. And I think jealousy can make one get distracted. I can have actors as friends, but it can't go beyond that. I can't even imagine dating an actor."
On her perception of becoming a second wife to a man, she totally kicked against it saying that being "a jealous lover," she will never tolerate such marriage.
"I'm a very jealous lover. I will kill somebody. If you marry me and decide to bring in another woman I quietly walk out of the marriage," she said.