AKWA IBOM 2011 GUBER: CONDEMNATION TRAILS UDOEDEGHE'S DECLARATION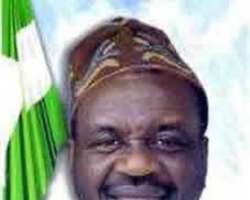 Former governor, Victor Attah
Determined to bounce back into political relevance, the former governor of Akwa Ibom State, Arc. Obong Victor Attah, endorsed the governorship aspiration of former Senator John James Akpanudoedeghe with his son-in-law Dr. Udoma Ekarika as running mate at the weekend.
At a ceremony held at the Primary School, Four Towns Uyo, the former governor symbolically lifted the hands of Senator Akpanudoedeghe, allegedly endorsing him as his choice aspirant for the next gubernatorial elections, while at the same time paving the way for the launch of Dr. Ekarika into the political terrain.
However, series of reactions have trailed the action of the former governor. Speaking with newsmen on Sunday, Otuekong Ita Enang said 'all of us at the National Assembly had in the past declared our unalloyed support for the second term bid of Governor Godswill Akpabio and that position has not changed. We had an understanding and that understanding is that Uyo will take eight years with one candidate – Obong Victor Attah and Ikot Ekpene will take eight years with their one candidate which is the incumbent. We are not ready to deal with another candidate from the district unless the one we have seen and have also seen what he has done in the last three years. All of us are with him as far as 2011 is concerned.'
In an interview in Oron, a second term House of Representatives member, Comrade Bassey Etienam expressed dismay at the action of the former governor. The Oron political chieftain said since the Attah had agreed on rotation of power among the ethnic blocs, his alleged endorsement of Udoedeghe was unacceptable to the Oron people. Etienam maintained that based on the performance of Governor Akpabio, Oron people would support him in 2011, and then wait for their turn in 2015.'
The two-term National Assembly member and recipient of Member of the Order of the Federal Republic honours said it was appalling for Senator Udoedeghe to renege after he had, during the campaign of Governor Akpabio in Urung Uko, urged them to support Akpabio for eight years, with a promise to support Oron nation to produce a governor in 2015.
He urged the governor to be focused on his developmental programmes in the state and avoid distractions.
Similarly, a group known as Eket Professionals has condemned the Obong Victor Attah for working to truncate the political arrangement in the state, which saw the Uyo Senatorial District produce him as the state governor for eight years and the zoning of the governorship to Ikot Ekpene district for another eight years to pave the way for the people of Eket Senatorial District in 2015.