Dr. Ozodi Osuji On President Obama, 7 Of 10 Largest Refugees Camps In The World Is In Africa What Has He Done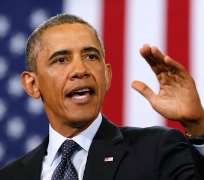 As an African from Africa, for sentimental reasons I supported President Obama and Democrats 7 years ago even though I tend to have sympathy for Republicans, but I have lost patience with Democrats now. Aside from the foreign policy total collapse and failures of Democrats, President Obama, Senator John Kerry and Senator Hillary Clinton.
I have wondered what is the benefit of President Obama to African Americans, Blacks and Africans for almost 8 years in office. I found out that President Obama Presidency as it affects and benefits African Americans, Africans and Blacks all over the world is zero zilch. Other population like the Whites have done far best under his administration, in addition to the fact that they have always been best and on top in America anyway.
He has not done any major thing for African Americans talk less of Africans or other black people all over the world that are looking up to him. It took him 7 years to visit Kenya his fathers land, and He could not even visit his fathers grave in His fathers village in Kenya when he visited.
To me, as an African and President Obama being the president of America the most powerful, admired and loved person in Africa when he visited Kenya with all the power America has to protect him, he did not visit his fathers village and pay respect to that man senior Obama that brought him to this world with the backing of American and all African power behind him, that's when I finally gave up on the Democrats and President Obama.
Further, I expected the economic and social condition of African Americans to improve tremendously, but it has not in any sector. The unemployment rate for African Americans according reliable sources is almost 30%. The funding of major African American institutions like Historical black colleges and schools declined in the last 8 years. Major black historical institutions and legacies foundation are all lacking sustained Federal Government assistance like Dr. King Center, Fredrick Douglas Museums and African American historical Institution Like Tuskegee institution etc.
The African American veterans of all wars have more homeless men, women and lacks needs than other population. Major cities where African Americans are in high number are experiencing high crime rate and riots. Example is Chicago his home town where crime rate has gone over the roof more than the national average. In the last 7 years, Police, Law enforcement and African American relationship has gotten worst resulting in many protest and riots acrossUSA over police killings and abuse.
Lack of serious encouragement for Private business for African Americans to depend less on Government, rather the welfare system and public healthcare system has made more African Americans depend more on Government instead of depending on themselves.Private enterprise among African Americans does not get encouragement from President Obama Administration as it should. The social fabrics of African Americans in every sectors in education funding, business development, unemployment and upliftment of Young boys and adult male did not see any improvement, including the high rate of imprisonment for black boys and young adults within African American communities.
Then in the African continent failures of president Obama and Democrats.
During the last Republican Government of President George Bush, At least President George Bush played important role in stopping the wars and prosecution of key players in the wars in Liberia, Sierra Leone and Sudan and Republicans under President Bush also contributed 15 Billion dollars to fight HIV/AIDS, Malaria, TB etc. in Africa; which till now is making it possible for an average poor African to get free or reduced price for HIV/AIDS drugs and treatment of Malaria and TB as part of the fight against HIV/AIDS epidemic. We commend Republicans for these efforts.
For President Obama, All Africa got from President Obama is preaching and admonition but no action. All the promise to Africans during President Obama visit to South Africa, Kenya, Ethiopia, Senegal and Ghana on electric power generation and distribution in Africa is all about promise but no action yet on any project.
President Obama and Democrats has not really done much for Africans. Kenya, Ethiopia and Sudan have the largest refugees population in the world. Every promise to Africa is nothing but promise. Conflicts and displacements of wars in Africa actually increased under President Obama and Democrats in Somalia, Burundi, Kenya, Ethiopia, Rwanda, Central African Republic, Chad, Nigeria, Nigeria, Uganda, Congo etc. The Genocide that occurred in Rwanda and Burundi that killed and massacred 1.5 million people within one month happened under Democratic Governments of President Clinton for lack of interest and monitoring of conflicts in Africa. In Nigeria the rise and killing machine of Boko Haram terror in Nigeria, Chad and Niger republic increased while Democrats are in power. The same thing is happening in East Africa, Somalia and Kenya.
So far, 7 of 10 Largest refugee camp in the world is in Africa. At any given time there are 15 millions of African as refugees, displaced persons or dislocated person due to wars, conflicts or natural disaster, and yet African pain is not highlighted like the Syrian refugees crisis by the Democrats or President Obama
2015 UNHCR regional operations profile - Africa
UNITED NATIONS REFUGEES ANGENCIY
http://www.unhcr.org/pages/4a02d7fd6.html
| WORKING ENVIRONMENT |

Massive new displacements caused by conflict, violence and human rights abuses are likely to continue to affect many countries on the continent in 2015. The projected numbers of people of concern in Africa in 2015 are expected to decrease slightly (from 15.1 million in 2014 to 14.9 million), due to repatriation, resettlement and other durable solutions. However, the scale of the displacement caused by the upheaval inside the Central African Republic (CAR) and South Sudan, as well as into neighbouring countries, is likely to remain extensive in the year ahead.

In Africa, the right to seek and enjoy asylum is largely respected - with some 3 million refugees having found in exile the safety and protection they have lost at home. The generosity of hosting countries in Africa is outstanding; but in recent years, some core values of the protection system have been challenged, with instances of refoulement, as well as difficult access for UNHCR to people who may be in need of international protection. In Southern Africa, an increase in mixed migratory movements has also led to growing hostility towards refugees, putting pressure on asylum and protection space.

More positively, since 2009, implementation of the comprehensive durable solutions strategy for the Angolan refugee situation has continued, in particular through repatriations from Botswana, the Congo, the Democratic Republic of the Congo (DRC), Namibia, South Africa and Zambia. In addition, local integration measures are being implemented for former Angolan refugees, notably in Zambia.

With respect to the 1 million Somali refugees, for whom the High Commissioner launched the Global Initiative on Somali Refugees in 2013, a Tripartite Agreement for the repatriation of Somali refugees has been concluded between the Kenyan and Somali Governments and UNHCR. However, large-scale voluntary repatriation and return to Somalia cannot yet be realized. In the meantime, spontaneous returns are supported.

In West Africa, progress in re-establishing peace and security throughout Côte d'Ivoire has led to the continuous return of Ivorian refugees from neighbouring countries since 2011. Between January 2013 and June 2014, some 26,000 refugees returned to Côte d'Ivoire in organized convoys. In June 2014, however, the repatriation operation had to be suspended because of the spread of the Ebola virus in neighbouring Guinea, Liberia, and Sierra Leone.

A significant proportion of Mali's population - 267,000 people - remains displaced internally and externally. A Regional Return and Reintegration Strategy was developed as part of the United Nations' Strategic Response Plan for the Sahel and the Government's Accelerated Strategy for northern Mali; and in May 2014, UNHCR and the Governments of Mali and Niger signed a Tripartite Agreement in preparation for voluntary repatriation, once the security situation is deemed sufficiently improved. Meanwhile, the Office will continue working towards the improvement of conditions in return areas, focusing on a community-based approach that fosters social cohesion.

The insurgency in the federal states of Adamawa, Borno and Kobe in north-eastern Nigeria has provoked the displacement of a large number of people, forcing more than 650,000 to flee their homes within the country, and an estimated 70,000 to take refuge across the borders with Cameroon, Chad and Niger.
Disclaimer:

"The views/contents expressed in this article are the sole responsibility of

Ugo Harris Ukandu

and do not necessarily reflect those of The Nigerian Voice. The Nigerian Voice will not be responsible or liable for any inaccurate or incorrect statements contained in this article."