In Remembrance of Ogoni Nine: Nigeria Must Not Politicize And Delay Ogoni Cleanup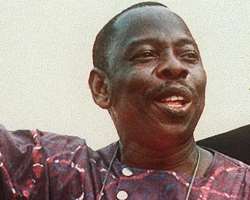 As Ogonis and the world commemorate the 20th Anniversary of the unjust, cruel State and Corporate hanging of Ken Saro-Wiwa and Eight others who lost their lives because they campaigned and stood up against the deliberate pollution of Ogoni and dehumanization of the people by the Federal government of Nigeria and Shell.
Let it be known that four years after the United Nations Environmental Program released its environmental findings (UNEP report) on decades of oil-based degradation, the government and Shell have refused to implement the report hence forced Ogonis to further live in pollution and contamination, which makes the air dangerous and drinking, cooking, bathing water deadly.
This is genocide considering that, the land and air, water have been destroyed and people are dying slowly and steadily from pollution. It's a crime carefully planned and executed by Shell and successive Nigerian government Saro-Wiwa exposed and he's killed alongside others. Therefore, as we commemorate November 10th, 2015, there is the need for the international community to reset its change buttons and focus more attention on Nigeria and Shell. It should help Ogoni pressure and cause these powerful yet susceptible entities to honestly implement the UNEP report to save the Ogoni people. This is the most urgent and moral thing to do for peaceful conflict resolution and management.
Intervening now and diplomatically to save lives and Ogoni land is better than waiting for a deeper conflict then ponder about crisis interception and humanitarian aid. Diplomatic security can be made strong, bold and attractive hence alternative to crisis-time diplomacy by honestly stepping up preventive and peaceful measures of resolving such conflicts as Ogoni's.
Meanwhile, the world, especially Ogonis were in what could be called shocking relief when Pres. Muhammadu Buhari announced in August this year that he's approved several measures aimed at fast-tracking the clean-up and restoration of decades of environmental degradation caused by the Nigerian government's ignorance and greed, Shell Oil's, other oil companies recklessness, corrupt practices and greed.
The government went further to announce a ten million dollars ($10 million) mobilization fund for the take-off of the presumably reformed Hydrocarbon Pollution Restoration Project (HYPREP), which has a Board of Trustees, Project Management unit and Governing Council, all of which members shall be appointed though no one seems to have been appointed to public knowledge four months later. Information reaching the public indicates Shell and other special interest groups and politicians have hijacked the new gazette discussed and agreed upon by stakeholders including Ogonis before Buhari made the above announcement.
They seems to have influenced Buhari and his administration hence altering the draft gazette to suit their purposes which include a plan to not start the work or start it with little or no oversight to rubbish best practice and do a cheap and non-quality work they know Ogoni and the world will reject. They're reported to have altered some important components of the original gazette in ways they can assert influence hence taking away the control of experts of UNEP and other relevant bodies with the competence needed to bringing about best quality work. The best approach is making HYPREP Ogoni-specific in the first ten years of the project as UNEP report is Ogoni-specific and then may extend to other Niger delta communities having registered some success and can replicate its experience.
Also in the making is a framework to not making HYPREP tailor its attention and work on Ogoni for quality and best outcome against focusing on all Niger delta pollution discovery and restoration contrary to the UNEP report which HYPREP creation is based upon hence making the clean-up a regional project by forcing space for certain people from Niger delta region who are not Ogonis to be involved in the governing and otherwise council-units of HYPREP. As mentioned in other write-ups, the UNEP report/project is an Ogoni project like many localized projects across the country, despite the international status of Ogoni clean-up due to the nature of the struggle for human rights respect and protection and environmental justice.
Such maneuvers or attempts if not stopped immediately indicates neither the government nor Shell and other oil companies are willing to honestly clean and restore Ogoni land and people. These acts of politicization, regionalization and alteration will collapse the clean-up project and not bring about peaceful resolution of the Ogoni-Nigeria-Shell conflict. Ogoni and its people deserves respect, justice, peace and development for all they've given to Nigeria, Shell and others. These government-Shell actions will not bring peace to Ogoni nor Niger delta and Nigeria in general.
In addition, although Buhari reportedly approved a Board of Trustees for HYPREP Trust Fund instead of Ogoni Environmental Restoration Fund recommended by United Nations Environmental Program (UNEP report), what has gone missing and neither the president nor his cabinet members are addressing is the recommended take-off money of one billion dollars ($1 billion) meant to be contributed by Shell Oil and other polluters alongside the Federal government which alongside its national oil company, the Nigerian National Petroleum Corporation (NNPC) also named as a polluter permitted the pollution as a joint venture partner. The said start-up fund has also attracted regional and national political gladiators or jobbers to a projected monetary and greed feast yet it hasn't been sourced.
It should be noted that the referenced take-off money is very important to the seriousness, honesty and agreement of the polluters to start this project with a well laid-out plan and strategy to complete it. If the Nigerian government can't mobilize other polluters to come together and raise this money in addition to its contribution, it's clear neither the government, which benefit so much from oil exploitation and production in Ogoni nor other polluters are serious, honest and willing to restore Ogoni land to save the population.
There has to be honest measures indicating commitment to the clean-up and full implementation of the UNEP report, which also has sustainable development package. Recently, however, Ogonis and the rest of the world have seen the recent position of Shell claiming it's completed most of the items recommended by this report thus demanding that Ogonis play their part by stopping oil theft and illegal refining; a trade the company has been accused of masterminding using the Nigerian Armed Forces and other special and foreign syndicates.
It's clear the UNEP report didn't in any way or form suggest that Shell and other polluters can or should embark on clean-up and restoration separately other than granting a guideline to helping safety and environmental protection during future oil prospecting and production. Shell's usual unprovoked actions and attempts to smear Ogonis already burning and dying from its recklessness and greed doesn't show a company which is serious and honest nor shows repentance, but known chauvinism, callous and heartlessness. This unnecessary blame game, which aims to cover the truth isn't good for any business, especially a company which has been finding it difficult to persuade and relate with or to the Ogoni people and other oil producing communities in the country.
Shell has a duty to get serious, honest and stop the games. The Federal government under Buhari also has a duty to get serious, honest and stop the games, stop allowing Shell manipulate and control her, by sticking to the UNEP report and making it an Ogoni business, which lessons could be learned from planning and execution for transfer to other Niger delta communities. Ogoni clean-up and restoration is Ogoni-specific. It's a project that will restore the rivers, creeks, land, trees and other plants; it will probably make fresh and fertile the soil and create conducive environment habitable for fishes, seafood, other aquatics and land animals most of which have been killed, displaced or extinct by oil production and pollution. It's a project that should restore Ogonis with sustainable development and other compensatory deals to alter decades of pain, hardship and death that makes oil a curse than blessing to the people.
This is a project that will be a model for other oil producing communities if started and completed by being placed in experts' hands, hence devoid of politicization, regionalization, corruption, greed and other vices. This project is a make or break item; it's life or death. Like a state for Ogoni, it's that which will determine if Ogonis will seek their own country and care for themselves and environment. This will be where Nigeria and its government repeatedly shows no care and displays lack of ability to respect the people, protect them, their land as stipulated by the Nigerian Constitution and international covenants; and guarantee their rights as equal stakeholders, or stay in Nigeria based upon the respect accorded them-human rights ceded and justice served. Therefore, politicians, scammers, bad leaders and skewed opinion mongers should take note and back-off.
In closing, the fact remains that the emergency measures of UNEP report on Ogoni pollution and contamination haven't been put in place and Ogonis have no alternative means of drinking and cooking, bathing and washing water. The land is still dying and rivers, creeks contaminated as a result of this pollution and devastation, which have destroyed the people's sources of livelihood that is farming, fishing and their sales thereof. What is needed in all honesty is seriousness...honesty and honesty; action, action and more action the people/world can see and believe, not empty announcements, maneuvers and unacceptable alterations.
The government, Shell, other polluters and all stakeholders including Ogonis should step up their acts and get on board in all so that this lifesaving project that will stand Nigeria out and grant the oil companies respect and credibility will commence its mission via a thoroughly designed and planned route with recommended take-off money and subsequent funding toward a successful end that will come when current administration is gone. As Ogonis and the world commemorate and celebrate Saro-Wiwa and others, let this November 10th become the turning point for Ogoni success as Nigerian government and Shell concede to acting responsibly for the greater good!
Ben Ikari, is international human rights and environmental justice advocate; author of Ken Saro-Wiwa and MOSOP-The Story and Revelation...can be reached at [email protected]
Disclaimer:

"The views/contents expressed in this article are the sole responsibility of the author(s) and do not necessarily reflect those of The Nigerian Voice. The Nigerian Voice will not be responsible or liable for any inaccurate or incorrect statements contained in this article."
Articles by Ben Ikari