James Bond In Nigeria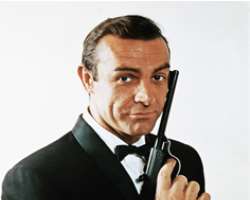 Original James Bond Secret Agent 007 Sean Connery
I have always been a movie (film) fanatic. It is traceable to the days when my father, the late Chief Dr. Ekuogbe Akpodiete, owned one of the two cinema houses in Ughelli in the 1970s/80s. I recall with fond memories, working at the Cinema house, when I was home from boarding school. That was when films, especially old westerns, were films. This movie-watching habit followed me to America.
There were days in Law School, when I will watch two to three films back to back to relax after reading thousands of pages of textbooks and writing briefs. A film can either make you relax or forget your problems while you go off to fantasyland with the Producer. However, some films make you think about your problems or the problems facing society.
One of my favorite films is the James Bond series. Agent 007 has a way of doing things. Whether it is his ability to inexplicably get out of dangerous situation or his fast cars, an average teenager is mesmerized by the fictitious British secret service agent with a license to kill. Of course, men (especially the over 40 group) appreciate his way with beautiful women, while consuming a martini that is shaken not stirred.
No one complains about the age difference between our hero and the heroine of the film. Alright, the moral majority (now minority) still rate the film as inappropriate. Most James Bond films are rated "R", meaning restricted to those over 18 years old because of the violence and sex scenes. There is also the promotion of hard liquor and spirits, not beer, and objectification of women. Once you overcame the arguably moral implications of the film, you can actually see some life lessons.
Ian Fleming, the originator of James Bond, started the series in 1953 by writing books and short stories. Although he has been dead since 1964, the series has outlived him with over 25 James Bond films in the past fifty-one years, with at least nine different authors.
Every James Bond fan has his favorite actor that played the role on the big screen. Personally, Octogenarian and Scottish born Sir Thomas Sean Connery is my favorite James Bond actor. He starred in the original film Dr. No. The American Roger Moore did not quite carry the role for me. Same thing with Irish Actor Pierce Brosman. Even the current actor, Daniel Craig, seems too muscular for the role. James Bond never used to show off too much of his own "beef." Anyway, you must be a white Brit (by adoption at least), with a swagger and correct ascent to play the perfect Bond, James Bond. It was only later that I learnt that Sean Connery is actually Scots-Irish, not British.
This past weekend. I went to see the highly touted latest in the James Bond series called Spectre. It was on an IMAX screen. So, it was a fantastic experience. As always, the movie was filled with toys, including a sleek Jaguar and Range Rover Sport. In the recent James Bond, all the original main characters have not changed, but the actors different. MoneyPenny is now a black woman, M is now a man, and even Q is now a young nerdy computer geek. MoneyPenny was the most shocking. Nonetheless, I still enjoyed one of my favorite. James Bond is the same Characters with different named actors.
Alright, what does James Bond have to do with Nigeria? I realized that James Bond represents the current state of affairs in Nigeria. It is the same story with essentially the same players. You may have a few new supporting political appointees, but the main characters are still the same. Secret Agent 007 is still the President (sorry, main actor) of the film. The story has essentially the same Directors and Producers. The new James Bond film Spectre had the same expected ending. Agent 007 won and drove off into the sunset with the beautiful actress. Very predictable. Will the fate of Nigeria be the same predictable ending in 2019?
The youths have complained that there seems to be no room for new blood. Most Commissioners and Ministers have been in the system since 1999 and the problems of underdevelopment and corruption have not been solved. Is it that we need only "experienced" politicians? What then is the "experience" needed? Pessimists will say that we don't need the wrong experience of corruption, mismanagement and impunity.
It has been postulated that "True statesmanship depends on a commitment to lead by principles and values." If our recycled politicians are true statesmen, we may have to accept them. Otherwise, we need a true change of guards.
Is it that we are doomed to have the same set of people in the story of Nigeria? In one of William Shakespeare's Play entitled, As You Like It, the beginning monologue by the protagonist Jacques has become famous. He states, in Act II Scene VII, that "All the World is a Stage." To extrapolate, are the rest of Nigerians doomed to just watch while the same set actors play it, with essentially the same directors and producers?
A significant portion of the Shakespeare's quote (probably pirated from 16th Century English Poet Richard Edwardes or First century Roman Author/Senator Gaius Petronius Arbiter) is that "All the world's a stage, And all the men and women merely players; They have their exits and their entrances, And one man in his time plays many parts, His acts being seven ages."
This past week, a friend posted on my Facebook wall (#profatawa) an article by a writer named James King. The article goes through the list of those that have been in power since 1999 to buttress the point that majority of those in power today are the same people. He profiled former Presidents, Vice Presidents, Governors, Ministerial nominees, party stalwarts and top government officials to point out that the current actors have only changed political platform to ascend into power again. In other words, it is not about Peoples Democratic Party (PDP) or All Progressives Congress (APC).
It seems like the same set of actors. Same story? I am a realistic optimist and hope the story ends differently, in a positive manner come 2019.
Atawa-Akpodiete, a public Affairs Analyst, wrote from Washington DC, Send comments to +12407724113, +2348138391661 (SMS) or [email protected] .
Disclaimer:

"The views/contents expressed in this article are the sole responsibility of the author(s) and do not necessarily reflect those of The Nigerian Voice. The Nigerian Voice will not be responsible or liable for any inaccurate or incorrect statements contained in this article."
Articles by Prof. Alex O. Atawa Akpodiete, Esq.