1st place in best value for money goes to Coca-Cola, Toyota and Star as voted by Nigerians
RESEARCH: ICERTIAS Best Buy Award NIGERIA 2015/2016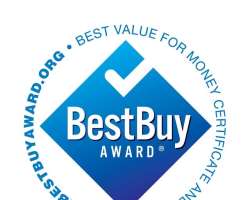 Both home-grown and international companies gain top rankings for price-quality ratio in the first ICERTIAS Best Buy Award survey conducted in Nigeria
Zurich, Abuja, November 2015 – Companies and brands ranging from Coca-Cola, Toyota and Star to LG, Cadbury and Shoprite have come out winners in their respective categories for best price-quality ratio as voted for the first time by Nigerians in the
ICERTIAS Best Buy Award survey.
Surveyed for the ICERTIAS Best Buy Award, on the basis of their personal experience of specified products or service categories in the Nigerian market, respondents were asked what they felt best represented value for their money in terms of price and quality.
Around 40 different non-economic and economic categories in sectors such as retail, food, footwear, clothing, cosmetics, home appliances, telecommunications and finances were addressed in the survey.
Presented with open-ended questions, respondents were able to answer freely whatever products or service providers came to mind that in their opinion offered the "best buy".
The ICERTIAS Best Buy Award survey shows that alongside home-grown brands, international brands fared exceptionally well. When Nigerians were asked:
"In your personal experience, which laptop (notebook) producer offers the best price–quality ratio in Nigeria:"
The majority of respondents aswered HP.
Coca-Cola (soft drink), Toyota (family cars), First Bank (banking and financial services),Star (beer producer), LG (household appliances), Cadbury (candy producer), Niger Insurance (insurance company), Fan (ice cream), Tecno (smartphone), Mama (rice producer), Mouka (mattress producer), DStv (digital television), Kings (edible oil), Ado Bayero Mall (shopping mall), Mobil (motor oil brand), Dettol (soap producer), Bedmate(furniture retailer), Shoprite (supermarket chain), Swan (spring bottled water) and Jumia(online store) all came first place in their categories in the ICERTIAS Best Buy Award survey.
These findings come from the first Best Buy Award research survey conducted in Nigeria in September 2015 by the Swiss organisation ICERTIAS. ICERTIAS measures the experience and level of satisfaction expressed by surveyed participants with the price-quality ratio of marketed products and services.
It should be noted that the ICERTIAS Best Buy Award survey does not measure brand equity or market share. This research provides insight into the customer's personal experiences, opinions, satisfaction and perceptions, which are used exclusively to gauge the price-quality ratio of goods and services in the market.