Wike Abandons Media Aide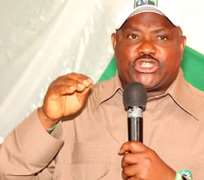 Barr. Nyesom Wike has curiously distanced himself from series of OFFICIAL and poisonous verbal venoms poured on the Nigerian Judiciary by the Governor's Special Assistant on Media and Publicity, Opunabo Nko Tariah.
Opunabo had earlier described the recent nullification of the widely acclaimed shambolic and violence ridden April 12, Rivers State Gubernatorial Elections, as "a travesty of justice," and "Judicial gang up and terrorism" against Wike and his cohorts." He didn't stop there: Opunabo went further to denigrate the sanctity of our Judiciary by casting aspersions on the integrity of the judges. He alleged that the Judges were setting pernicious precedents with inane points of law.
Speaking at a meeting yesterday, Wike shamelessly rejected the official position of his government on the Nigerian Judiciary, and denied knowledge of the State Government's Press Release: "I did not permit anybody to say that the Tribunal and the Supreme Court judgements that did not go in my favour was a judicial gang up or judicial terrorism against me. I cannot castigate the judiciary for doing their rightful job. In fact, the judiciary is in order," he said.
Now, the question that looms large is this: shouldn't a Governor preview a Press Statement before its release? So this is how they have been running the affairs of Rivers State all these while? In which planet does a Governor's spokesperson make highly unguarded utterances "on behalf" of his employee, and gets betrayed when the tempo is high?
The truth remains thus; it is of less concern to the populace and the Nigerian Judiciary whether Nyesom Wike did approve of the said Press Statement by his media aide or not: Wike is now an enemy of the Law!
Solomon Okocha writes from Abuja, Nigeria. @Okocha_info.