LAGOS ASSEMBLY CONSTITUTES COMMITTEE ON EXCO, LAND MATTERS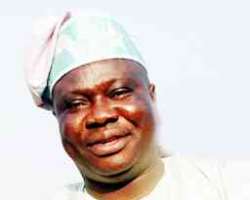 Adeyemi Ikuforiji
The Speaker of the Lagos State House of Assembly, Adeyemi Ikuforiji, on Thursday set up a fresh seven-man committee to investigate the activities of the executive arm of government.
The committee, which is headed by the Deputy Majority Leader, Dr. Ajibayo Adeyeye, includes Mrs. Funmilayo Tejuoso (Odi-Olowo), Sanai Agunbiade (Ikorodu I) and Rotimi Olowo (Somolu II).
Others are Omowunmi Edet (Oshodi/Isolo II), Dayo Fafunmi (Ifako/Ijaiye) and Samuel Adejare (Agege I).
The Speaker said the decision to investigate the executive was reached before the House went on Easter break, and that it was based on a protest by the group, True Face of Lagos, which he said formally submitted a letter of the petition to it.
He said, 'Having deliberated on the vote and proceedings of the sitting, and according to the power vested in the House by Section 128 subsection one and two of the 1999 Constitution, the House has decided to set up a panel to investigate the allegations.
'The committee is empowered to call on all and who it finds necessary, in order to do a thorough investigation.'
Before dissolving into a Committee of the Whole to decide on the panel to investigate the executive, the House had earlier constituted a committee to look into cases of disputes arising from land matters and related issues which it said could lead to disturbance of public peace.
The committee, which is to submit its report to the House within one week, in to be chaired by Adebayo Osinowo. It is coming on the heels of a peaceful march to the Assembly by some residents of Gberigbe Orelade community in Ikorodu.
Led by the Chairman of the Landlords Association, Mr. James Okwuorogu, the residents had petitioned the Assembly over the activities of the Baale, one Chief Olusegun Ogunlana, and land agents from Ogun State, whom they accused of constituting a threat to their lives.
Okwuorogu, in his presentation, said that the Baale had made life unbearable for them, and called on the House to intervene.
The petition reads in part, 'We, the landlords association of Gberigbe Orelade, call on our lawmakers to save us from the activities of land agents called Ajagungbale, drafted into the community to threaten our lives.
'Sometime in the midnight in January, they came into the community threatening the lives of innocent law abiding citizens. A week after, posters were pasted on the wall of residents demanding we pay the sum of N275,000 as rectification fees as a result of the judgement delivered by Justice A. Oke-Lawal, in December 2009.'
Ikuforiji, in his response, commended the people for not taking the laws into their hands, promising to reach the other parties involved in resolving the issue.
He said, 'We will invite the concerned persons. No one has the right to disturb other citizens of the state from the peaceful enjoyment of their property.
'Even the governor, Babatunde Fashola (SAN), sometime ago made an order that no government agency should unlawfully disturb or destroy property. This is Lagos State and it is important that we work in consonance with the dictates of the law.'
A member representing Lagos Island I, Mr. Wahab Alawiye-King, during a debate on the issue had noted that the Assembly was confronted by a deluge of similar cases, saying they should 'be looked into exhaustively.'