President Buhari, Stop The Unhealthy Relationship Between The Police And NSCDC For The Sake Of Our Internal Security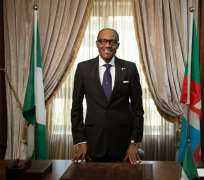 President Muhammadu Buhari, even though you remain fully aware of the chaotic and laughable arrangement of our law enforcement system, let us draw our attention to one simple policy issue. The law enforcement madness, in terms of the uncertainties marking the Nigeria Police Force (NPF) and the Nigeria Security and Civil Defence Corps (NSCDC), needs to be addressed now.
Over the years, dubious distinctions have been made between the police and NSCDC, but if truth be told, both of them exist to ensure the safety of lives and properties across the country.
Beyond the chronic, ongoing , direct and indirect rift between the NPF and NSCDC that should be blamed on the government that allows for the existence of two matching and duplicating agencies, what is now at stake is the Buhari presidency successfully tackling our nonstop security crises through these law enforcement agencies, among others.
President Buhari, even if this government spends more money, even in the trillions, to buy plenty of equipment and hire more law enforcement and security personnel, the inefficiencies will continue unless this new leadership stays off of the previous vision marked with mismanagement of resources, misplaced priorities and sentimental politics.
Even if a high level fortification is mounted in the capital territory of Abuja and other areas across the country marked with extensive roadblocks and security patrols, without a new vision of policing, series of terrorists' blasts could continue like the recent one in Abuja.
Mr. President, if you are really serious about reducing security issues, including the militant group Boko Haram, bold assertions like 'Terrorism will end soon' and 'We will continue all-out military offensive operations,' will just remain matters of gesture and interim force, as the recent Nigerian President Goodluck Jonathan did and said as much.
Mr. President, if you would listen and seriously take the words in this discourse, there is something fundamentally wrong with our leadership in terms of a commonsense approach to matters of internal security and other affairs of the nation.
While there is no attempt to view all public leaders as the same, we cannot continue to run the nation with uncooperative, indiscriminate, divisive, oppositional and reactive leadership. In a normal and healthy society, following the recent bomb blast in the nation's capital, it would have been a powerful photo sight and a greater psychological sense of unity on behalf of the country to see the Inspector-General of Police, Solomon Arase, and the Commandant General of Nigeria Security and Civil Defence Corps, Abdullahi Gana Mohammadu, together inspecting the scenes of the bomb blasts. In fact, the President should meet privately and frequently with these two main law enforcement chiefs given the unending and unpredictable occurrences surrounding internal security.
Mr. President, since your order to relocate the nation's military headquarters from the capital of Abuja to Maiduguri in order to focus more on the insurgent attacks, the police/NSCDC chiefs, as head of the nation's two main law enforcement bodies, should be having frequent face-to-face/one-to-one meetings on internal security matters.
President Buhari, in general, on matters of internal security threats, let's draw out policies marked with a proactive stance using nontraditional and dynamic enforcement ways through which the NPF/NSCDC, in a joint manner, can move to community policing methods. In a community patrolling program, a plain-clothes saturation operation by NPF/NSCDC should completely spread to strategic areas and neighborhoods.
Mr. President, the parallel nature of NPF/NSCDC which awaits possible decentralization or restructuring by way of merging or scrapping is a great idea, but until then let's make maximize the use of more than enough officers and detectives from both agencies to curtail our scarce resources and enhance security collaboration. In this way we will reduce the madness that always plays out between the police and corps through unhealthy rivalries and conflicts.
Dr. John Oshodi is a Florida-based Forensic/Clinical Psychologist, a specialist in Prison/Police/National Security matters and a former Secretary-General of the Nigeria Psychological Association. [email protected] , drjohneoshodi.com
Disclaimer:

"The views/contents expressed in this article are the sole responsibility of

John Egbeazien Oshodi, Ph.D.

and do not necessarily reflect those of The Nigerian Voice. The Nigerian Voice will not be responsible or liable for any inaccurate or incorrect statements contained in this article."
Articles by John Egbeazien Oshodi, Ph.D.