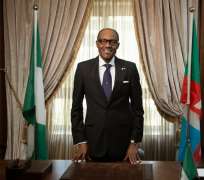 Since Nigeria came to existence in January 1914 and later became independence in October 1st, 1960, it has been a journey undefined since then. Many tagged it as a false marriage between hundreds of ethnicity couple with pluralism of religions.
In fact, it is a forceful cohabitation where everybody mind his or her clan. We keep passing buck to colonial masters and fanning embers of marginalisation. Today, Hausa man will identify other tribes as Yoruba or Igbo not as co-citizens, likewise a Yoruba or Igbo man will do same.
Though we have few steps to point as progress but are we at same pace with countries that we had independence at same period. Even those who came after us have left us far behind.
How can a nation lack national goals. When purpose is undefined then destination remains unclear. If you don't know your count how can you plan effectively. When a nation has no goal it will end up having abandoned projects litter on her land. Even policies will be inconsistent.
After 55 years, we don't know the count of people living in our country. Nigerian leaders have been recycling power from Khaki to Agbada. A nation that was major exporter of agricultural produce; groundnut, cocoa, palm oil, rubber in the 1960s is now major importers of food items. A nation that discovered oil in 1956 is yet to know how best to refine it to meet demand of her populace.
A nation where 5hours supply of electricity is appraised as miracle when South Africa with population of 60million is enjoying 40,000MW. Today, our national grid is still 7500MW installed capacity with generation, transmission and distribution hovering below 4500MW.
All these are just few instances of our toddling as a toddler at 55.
Let us ask our leaders who have been occupying seats of power since 1960 till date these questions.
If Nigeria is their personal project would they have been doing it same way? If they assign managers to their companies are they going to be happy if their treasury were looted the same way they have done or are doing to our patrimony?
However, all efforts to renegotiate our coexistence have never yielded good result yet we keep saying we should remain indivisible as enshrined in 1999 constitution. So for how long are we going to continue in same ship that has no definite destination.
Until we stop feeding bottle federalism, our nation will remain as a toddler.
If we don't remove state of origin from our constitution, embers of ethnicity will remain at front burner of marginalisation.
To wrap it up here, today's speech made by President Buhari was not different from what have been drumming to our ears since 1960. Our leaders will raise our hope and dash it in a twinkle of an eye.
Happy Independence Day
Ifedayo Obi
Good Governance Advocates
[email protected]