Before Diezani Madueke Goes To Jail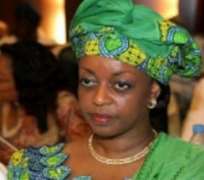 The name, Diezani K. Alison-Madueke, is making wave in the media since 2013, but in the wrong direction, especially in the social media. Anyone who does not review an issue before buying into it, would take the criminalisation of the immediate past Minister of Petroleum Resources, to be true.
One does not read in-between lines these days on the name, Diezani K. Alison-Madueke, without seeing a mention of this stolen billion dollars or that laundered billion naira associated to it. Her issue had kept some of us in the media thinking.
The irony of it was that you would also read that she left for the London or USA or Germany to plead with the international community to beseech on her behalf, so that Major General Muhammadu Buhari, would not imprison her.
The recent nuisance making the rounds on her name was that she was begging to refund a certain billion dollars to Buhari, in order to allow her be. Then, one is flummoxed to ask, why the criminalisation of Diezani K. Alison-Madueke who until her tenure as Minister of Petroleum Resources, never plunged the country into fuel scarcity, especially during the season of yuletide.
This scintillating beauty called Diezani K. Alison-Madueke (Nee Abiye-Agama) born 6 December 1960, had always distanced herself from such devious accusing fingers on her. One is not sure if it is only in Nigeria that this woman is a 'criminal' because as the first female President of OPEC, elected at the 166th OPEC Ordinary meeting in Vienna on 27 November 2014 and sundry, this international body is not accusing Diezani K. Alison-Madueke of pilfering into its coffers as the president.
As once Nigeria's minister of transportation on 26 July 2007 and was later moved to Mines and Steel Development in 2008, until her appointment as Minister of Petroleum Resources on April 2010, Diezani K. Alison-Madueke was the perfect minister of all. It was on quote that Propaganda is to a democracy what the bludgeon is to a totalitarian state.
What might be working this far against Alison-Madueke was propaganda. But in Nigeria, one is forced to say that tribal ulcer and cancer are the worst. There is yet to be democratic civilisation in Nigeria. As if he was the Auditor General of the Federation, the first person to cast the dye against Alison-Madueke, was the loquacious former Central Bank of Nigeria (CBN) Governor Lamido Sanusi.
Sanusi was saying that there was missing $20 billion oil money, without giving recourse to how the Nigerian state had explored crude oil from the South-East and South-South zones, since 1956 and the north benefitting from the proceeds since 1967 it bounced on superintending Nigerian affairs, without any commensurable development in these zones.
Rather, the northern accomplice, West, started deafening our ears through its propaganda media, of how the north had been impoverished during Dr. Goodluck Jonathan's presidency, as if northerners have not ruled Nigeria for nearly 40yrs, and the outcome of their rule is the poverty we can see around the country till date.
Kparobo Ehvwubare is a journalist, social critics wrote from Oghara, Delta state. Could reach be reach 07067546856 or [email protected]
Disclaimer:

"The views/contents expressed in this article are the sole responsibility of

Kparobo Ehvwubare

and do not necessarily reflect those of The Nigerian Voice. The Nigerian Voice will not be responsible or liable for any inaccurate or incorrect statements contained in this article."