Flood and Hunger: The Need To Save The Nation From Famine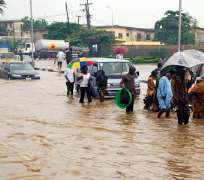 When the new administration was ushered in on 29th May 2015, it was greeted with cheers and jubilation from all quarters especially the people from Benue valley and particularly Benue State, who had worked tirelessly for the actualisation for this change in government for the hope of a difference in administration.
The Benue valley covering Adamawa, Taraba, Nassarawa, Benue and Kogi states, has in the course of the preceeding administrations suffered serious neglect from basic and fundamental issues of life due to ignorance on the part of government even with the most important role this region plays in the nation's polity.
The Benue valley accounts for a significant percentage of the nation's wealth, being the biggest player in the agricultural sector and accounting for 80 percent of the nation's food and wealth which is buried in agriculture. This is even as the region's major preoccupation is agriculture (it is worthy to add here that the 1970's economic boom via agriculture was made possible from this region as the famous groundnut pyramids found their original here with Kano only acting as transit ports).
Unfortunately, even as this region and especially Benue state which prides itself as the Food Basket of the Nation, due to its agricultural potential, it is gradually winding into a mirage of its once glorious self owing frequent unattended disasters.
Only in July - October 2012 Adamawa, Benue, Kogi, Nassarawa and Taraba states experienced the worst flood ever in the history of Nigeria as an independent republic covering and sweeping away everything within a 10km radius of the river bank which killed over 400 people and displacing over 2,100,000 others.
This flood sacked and destroyed several communities, farmlands and infrastructure within Makurdi, Agatu, Logo, Gwer/Gwer West, Guma, Apa and other local governments areas of Benue state.
National Emergency Management Agency(NEMA) reported that all the 36 states in the country were affected by the flood either directly or indirectly. The flood was also termed as the worst flood in the last 40 yearsand affected an estimated number of seven million with Benue state accounting for over 30 percent of this loss.
The estimated damages and losses caused by the flood were worth well over 3 billion naira.
As if this was not enough the Benue Valley was again visited by man made disaster occasioned by the Fulani herdsmen clashes with crop farmers which has claimed lives and property worth hundreds of millions.
This unfortunate happenstance had set the whole region especially Benue and Nassarawa states in an extreme case of turmoil, setting back the region economically and even the peoples livelihood.
It is also unsavoury to mention here that even on this occasion which is actually yet to be stilled, the nation stood in neglect nearly acting as if it never happened. The state's were left to cater for their displaced while their livelihood which had earlier sustained the nation and built all pre - oil boom era infrastructure. Where have we gone wrong?
Watchers have variously expressed dismay over the lack of attention to the plight of the farmers and residents of this region as the security situation portends serious economic consequences for the nation especially with a government which has a sworn agricultural revival agenda. It is wondrous what focus the nation has when the major bed for this venture suffers neglect.
Only recently no fewer than 2000 internally displaced persons of the flood disaster in Benue state are being admitted in the refugee camp designated by the Benue state government ( this number does not include those who have been housed by family and friends) and the state government although inadequate, has commenced donation of relief materials to alleviate the suffering condition of the displaced, while the state government has inaugurated a committee for the registration of refugees.
Preliminary research has already proven that Local Governments including Makurdi in areas like Gboko road, North bank, Wadata, Wurukum as well as the riverine settlers in Katsina-Ala, Ado and Okpokwu Local Government communities of Ijigbam, Ulayi and Ekile have already lost farmlands worth millions of Naira and nearly 300 farmers displaced.
Commenting on the efforts to control the over flow of water, the Benue Commissioner for Water Resources, Mr. Nick Wende informed that the administration of Governor Samuel Ortom has put in place proactive measures to ensure easy flow of drainages and that proper disposal of refuge is also enhanced. However this is obviously inadequate to fetter the damage.
It is on this premise that the public outcry for national attention from relevant agencies including the Federal Ministry of Agriculture, National Emergency Management Agency ( NEMA ), National Human Rights Commission ( NHRC ), United Nations Human Rights Commission ( UNHRC ) and Catholic Relief Services ( CRS ) to beam their spotlight on this impending crisis if the claim to diversify from oil to an agro based economy is supposed to be actualised.
It is also paramount to identify what collaboratory steps the state governments affected by this menace have taken to address this situation as it is recommend that these states of Benue, Nassarawa, Adamawa, Taraba and Kogi work in unison to find a lasting solution, even as the federal government shows its total commitment to the security of lives and property while emphasising it's resolve to shift from a petroleum based economy to agro based.
Ati Terkula is a journalist and Blogger, he writes from Makurdi [email protected] 08067238999, 08091551298
Disclaimer:

"The views/contents expressed in this article are the sole responsibility of

Ati Terkula

and do not necessarily reflect those of The Nigerian Voice. The Nigerian Voice will not be responsible or liable for any inaccurate or incorrect statements contained in this article."