Science And The Arts In Africa Under The Spotlight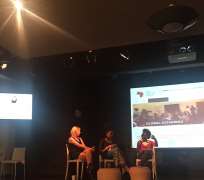 The importance of science in society was in the spotlight at a symposium in Cape Town which attracted leading Nigerian American science fiction author, Professor Nnedi Okorafor and other high-profile leaders in their fields.
Professor Okorafor, who is also a professor in creative writing, discussed her career as a highly successful author of science fiction and how science had influenced her writing.
The symposium was organised by the South African Young Academy of Science (SAYAS) which is made up of 50 of the top scientists working in South Africa, all under the age of 40.
"This year's truly interdisciplinary symposium was an exciting, one-of-a-kind hybrid event that showcased the relevance and importance of science in society," said Dr Tolullah Oni, SAYAS co-chair and Senior Lecturer in the University of Cape Town's School of Public Health and Family Medicine.
The Nigerian-born academic, who is also a Next Einstein Forum Fellow, said she hoped young people would be inspired and encouraged to pursue science. We also hope to show the potential for science to address societal challenges." Dr Oni said:
Science fiction writers, musicians, designers, astrophysicists and public health scientists were among the speakers at the symposium
Entitled: 'Fact, Fiction and Media: Re-Imagining Science Engagement and its impact' the symposium focused on ways other than traditional science communication to spark interest in science. These included sound and images, such as music, film and the visual arts, that can be used to produce data and engage society in science in Africa.
School learners called the 'Optimistic Youth Reporters' from the Children's Radio Foundation in South Africa recorded their peers at the Centre of Science and Technology (COSAT) High School in Khayelitsha, Cape Town, answering questions about science. These were replayed at the symposium. They also questioned scientists about everything from the recent Homo Naledi discovery in South Africa to the 'big bang'
SAYAS, which was established by South Africa's Department of Science and Technology in 2011, is the voice of young scientists in South Africa. One of its key objectives is to promote science awareness and engagement. Ten members are selected annually based on their scientific and academic excellence and a record of science engagement beyond their disciplines.