Former River State Gov.Amaechi sues PDP, demands N300 billion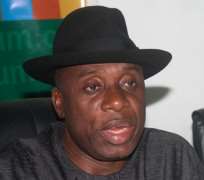 The immediate past governor of Rivers State, Chibuike Amaechi, has filed a suit at an Abuja High court against the state chapter of the Peoples Democratic Party, its chairman, Felix Obuah, and two others, over allegations of foreign accounts ownership and embezzlement against him.
The governor is seeking from the party and its officials N300 billion for general damages done to him and defamation of his character, reputation and person.
The PDP had in a statement in August alleged that Mr. Amaechi stole $757million (N80 billion) of Rivers State public funds and stashed them away in an account in his name in Bancorp Bank in Minnesota, United States of America.
It also alleged that the former governor embezzled millions of dollars of Rivers State money and stashed the money in other foreign accounts in his name, including in a bank in Switzerland.
The party said Mr. Amaechi's foreign accounts were revealed and blown open by Christiane Amanpour of America's CNN and alleged that Bancorp Bank wrote President Muhammadu Buhari intimating him that part of the funds was to be used to purchase a residence for the former governor in the US and that it (Bancorp Bank) planned to return the stolen funds to Nigeria.
In the suit, Mr. Amaechi stated that each of the said publications by the PDP and its officials "are untrue, false, motivated by ill-will and without any foundations in truth whatsoever."
He said that they "made the said libellous publications after the party failed the March 28 presidential election and with a view to rubbishing him in the eyes of right thinking members of the society and the persons to whom the said libellous publications have been made."
In his statement of claims in the suit, Mr. Amaechi said he did not steal the state's funds neither did he stash them away in Bancorp Bank in the US or in a Swiss bank.
According to him, the US bank did not at any time reveal that he embezzled or misappropriated or connived in the embezzlement and misappropriation of monies meant for Rivers State people and stashed them away in his name.
"The Bancorp Bank, Minnesota, United States did not write and did not communicate President Muhammadu Buhari over any said sum of $757 million dollars allegedly looted by the Plaintiff (Amaechi) that is kept with it and in Switzerland since no such money was ever looted by the Plaintiff (Amaechi)," he said.
"There exists no letter which the Defendants (PDP, Felix Obuah and two others) had seen written to President Muhammadu Buhari, by Bancorp Bank, Minnesota, United States confirming the existence, lodgment or transfer with the said Bancorp Bank and in Switzerland of the said sum in the name of the Plaintiff (Amaechi) since no such monies were ever looted by the Plaintiff.
"The Plaintiff (Amaechi) did not steal monies belonging to Rivers State and did not lodge them in any private foreign accounts. The Plaintiff did not admit that he lodged and domiciled in his name in an account in Bancorp Bank, Minnesota, United States any monies as alleged by the Defendants. The Plaintiff did not lodge any sum of $757 million or N80billion in the said bank account belonging to him and none was revealed or blown open by Christiane Amanpour of CNN."