CD Demands Falae's Release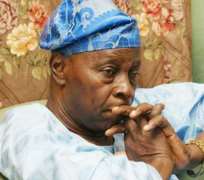 The Campaign for Democracy (CD ) received with rude shock the kidnap of elder statesman Chief Olu Falae in his farm in Akure on Monday.
The kidnap of the former presidential candidate has brought to fore the state of insecurity in our country.
That a man who almost became the president of Nigeria could be picked by criminals shows that we have reached a point where no one could feel secure in the midst of the war against everyone going on in our country.
We demand freedom for Chief Olu Falae as every minute he spends in the den of kidnappers put our country to shame and rubbishes our security architecture.
Dr. Joe Odumakin
President
Women Arise for Change Initiative
54A, Adeyemo Akapo Street,
Omole Phase 1, Estate.
Website: www.womenarise.org.ng
Campaign4democracy.org