The Parent Syndrome a flash fiction story from a renowned author/writer
.A Quick Read Series by Nnenna Uma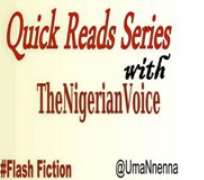 I lay on the bed that will see my end with my children gathered around me. A reflection of my life's journey into adulthood and I feared that I too may have caught the parent syndrome.
"Martha." I said with all the air my lungs could gather yet it wasn't loud enough to get her attention. "Martha." I called again, as that child noticed and tapped her. She turned towards me with a smile; the warm smile I had woken up to everyday.
"Do you need something?"
Why do they always think an old man needs something when he calls? She came closer and that child made way for her as she leaned to my mouth. I gave her the instruction that will show me my own shame or triumph. Father had said it was more difficult than I thought to overcome the parent syndrome.
A while later she came in with bowls filled with a kind of soup not familiar to any child of my house, dropping all seven bowls before each of them, I ordered them to eat.
They frowned, smelled the contents, ran their spoons inside it, lifted the stained spoon and touched the tip of their tongue with repugnance, yet, that child swallowed spoonful after spoonful with a calm expression; one that could also reflect fear. A look none of the children of my loins gave.
There the shame of my existence stared at me, I had not given that child the same right as the children of my loins, that was why he felt no right to complain or even frown at the foul soup. Father was right after all.