​Human Rights Report: That Buhari's Declaration Of Asset: Cleverness By Half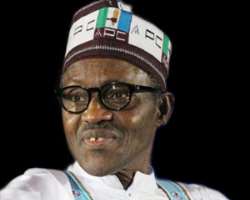 Nigerian President Muhammadu Buhari has finally declared his asset publicly after several pressures. The amount so declared is 250 – thousand dollars about 30 – million naira.
Critical Analysis of the Hoopla
Asset declaration is, 100%, an accounting terminology which is an extension of an Accounting Conservative principle where an accountant in any venture is not expected to be reporting gains even if the business yields tremendous profit. Politically, it is extrapolated from accounting to mean that a political office holder is meant to tell the public how much he is worth before occupying a public office where he is the overseer of public found transfers. This is done to preclude any perceivable embezzlement of public fund. This enables the public to assess by extension and behind closed doors too, the political office holder when he vacates seat.
Being a check, it is crafted the way the accountant has intended, inform of statement of assets. Assets are utilization or application of fund sourced from liabilities. Hence, Asset Declaration would reveal at a glance:
how much physical cash you have in your house or bank or elsewhere
how you made the said physical cash: who give it to you or the business you did to have derived or earned the money.
The physical assets in your domain and their financial worths such as: Landed properties acquired or inherited, investments made so far and their sources of funds, notable house equipment as well as cars and machinery bought and sold out.
WHAT MR. PRESIDENT DID
Mr. President Muhammadu Buhari rather than declaring his asset, stated only the physical cash in his possession in cash or bank account without, or carefully dodging detailed explanation of how he came about the said 150,000 dollars. Was Buhari not cleaver by half?
There are clearly two sides to this falsity called Declaration of Asset by Mr. President:
Overestimation – Mr. President quoted what he is not worth to
Under-estimation – Mr. President quoted what he is covertly and overtly worth over.
Over Estimation – Mr. President quoted what he is not worth to
Mr. President has not told us that since he left Nigerian Military since August, 1985, exactly 30 years this year, that he has been working so as to have generated income. If he established business which he was doing those days, he did not disclose this in the said declaration. That is another kettle of fish altogether.
Mr. President by his keeping mum over his business outfit, has made us believe that he had not been working. So, Mr. President had not been earning income. The pertinent questions are:
How much is the military paying Buhari as pension to have accumulated to 30 – million naira for thirty years after daily expenses?
How much was Buhari saving monthly to have accumulated to 30 million naira today in 2015? If Mr. President has accumulated up to 30 million naira in 30 years, that means one million naira a year, that means about N84,000 monthly. Mr. President, by your declaration, your monthly savings, not expenses, from your only source of income – pension, is N84,000.
Then, Mr. President, how much is your monthly pension from the military to warrant you save N84,000? How much? Nigerians would like to know please. This is the crux of the matter. You are a public servant now, we would like to know your pension from the military that gave birth to N84,000 monthly savings, because you have no other source of income.
Since we are more that Nigerian Military cannot pay you what can warrant you to save N84,000 monthly, it follows without saying that you, Mr. President certainly over-estimated your pension from the military.
Under – Estimation – Mr. President quoted what he is covertly and overtly worth over.
The corollary to the foregoing argument is the fact that Mr. President is being almost truth in his presentation of Assets publicly. Muhammadu Buhari was:
1. Petroleum Ministry, 1975 – 1979 in both Murtala and Obasanjo regimes. How much was he earning as salary in those years since he did not tamper with public fund? We know that under his nose, whooping sum of 2.8 billion naira, equivalent to 5.6 billion dollars by then was missing from NNPC account, Buhari was the Chief signitary. The money was traced to Mid Land Banks of United Kingdom. Mr. President has always used conspiracy of silence to douse tension arising from the public outcry against this treachery.
So, is Mr. President saying that he solely depended on his salary and fringe benefits as petroleum Minister between July 29, 1975 – October 1, 1979? If so, how much was his salary and fringe benefits put together? How much?
In 1984, under the tutelage of the then Military Governor of Kaduna State, Colonel Dangiwa Umar (rtd) 56 suit cases stuffed with materials suspected to be money were critically and flatly rejected scrutinization by the press. They passed it straight to Dodan barracks. When Dangiwa was querried he said they are "Executive suits".
Has Mr. President taken the bull by the horns to address the Nation on the said "Executive suits" since he claims innocence and transparency? How much did the President collect as a military President between 1st January 1984 and August 26th 1985? How much did he collect?
In 1993, Abacha took over from Shonekan in a bloodless Palace Coup. Abacha was hated by Americans and Western nations for not allowing them to plunder Nigeria. They branded Abacha Government Paria Government. Abacha looted the treasury no doubt. But was Sanni Abacha the most notorious treasury looter in Nigeria?
Abacha needed some one to handle petroleum ministry to atleast Launder his image. He approached Idiagbo who really was the image maker of Buhari – Idiagbo Regime. He approached Idiagon who referred flatly since international community had Branded his regime pariah. He attentively tried Buhari reluctantly who surprisingly embraced the idea. The greatest some of income for Nigeria's monoproduct economy is oil. But Abacha was a squandermanic.
The question then is: Was Sanni Abacha squandering oil money without the knowledge of Buhari? Was that possible since Buhari was heading petroleum (PTF) Ministry? Every body today is saying Abacha loot, Abacha loot, Abacha loot …. (ad infinitum). Did Abacha loot without the man heading the ministry of the only source of income?
How much was the salary of Mr. President (Buhari) when he was PTF Chairman under Abacha Regime? How much please?
In 1999 when Obasanjo became Head of State, hell broke loose on Abacha loot …. (perpectual outcray). A panel was set up to try PTF under Buhari headed by a Co-Fulani man. A Government constituted Panel of Inquiry found PTF under Buhari guilty of mismanaging N25.76 billion naira, about 10 billion dollars then.
Has Mr. President as sermonizer on transparency told us the truth about that money? Has he? Again, Buhari's gambit has been transparency of silence, which has been his greatest alibi. He allowed his islam-jihadists to launder his image pretending he was innocent of all newspaper write ups despite Federal Government indictment.
Obasanajo as a double-tonguer, not wanting to be in the bad book of Buhari, recoiled to his cocoon and said "I never found Buhari guilty of 25.76 billion naira". The question is: who is Obasanjo to speak for Nigeria on something that was a public discourse? Is Obasanjo greater than Nigeria? N25.76 billion is not about Obasanjo, but about Nigeria. Obasanjo being Head of State cannot prosecute and judge at the same time. Nigeria is not about Obasanjo as an individual. So, what Obasanjo is now saying is simply his own view in the now which is absurdic to the course of justice of recovery of public loot from PTF under Buhari. The issue which is a fact is that Muhammadu Buhari was indicted in a panel of inquiry set up by Federal Government in 1999 in the misappropriation of public fund as PTF Chairman in 1999. fullstop.
Every other thing is balderdash and gimmick to cover Buhari up.
Finally, since 29th May, 2015 Buhari took over, he has been running exclusive government where all we hear daily is – probe Jonathan regime, Probe Jonathan regime ….. ad infinitum. How much has Nigeria earned these 100 days in office? Has Buhari accounted for it?
He that must come to equity has to come with clean hands. Has Buhari come with clean hands to the equity of Probe Jonathan? I am not Pro-Jonathan, and I do not have any course to be because Jonathan was a millipede in power, and lacked every quality of a leader. But to scapegoat him in corruption arena in Nigeria cannot procure my nod as a human rights activist because it is inequity.
BUHARI FALL TO SHOW HIS LIABILITIES
In any asset declaration, both asset and liabilities are declared. But here in Buhari's case, Buhari told that he is worth 30 million naira as his asset without telling us his liabilities that is, his indebtedness that gave rise to the 30 million assets. This is a hood wink and clear strategy to be almost truthful. But this does not surprise me or any other right thinking Nigeria because Buhari has been in power since 1975 and has been holding juicy offices and has been found guilty in every occasion of squandering public fund: 5.6 billion dollars in 1978, many billion dollars as in executive cases in 1984, 25.76 billion Nigeria in 1999 and more than 4.3 trillion naira in 2015 one hundred days in office. The worst thing that can happened to Nigeria is Buhari in power.
Comrade Kindness Jonah
National Commentator
080-3666-2901 & 080-9595-7698

Disclaimer:

"The views expressed on this site are those of the contributors or columnists, and do not necessarily reflect TheNigerianVoice's position. TheNigerianVoice will not be responsible or liable for any inaccurate or incorrect statements in the contributions or columns here."
Articles by Kindness Innocent Jonah