Human Rights Report: Rotimi Amaechi – Former Governor Of Rivers State, Opens Up At Last, Says: Buhari And Tinubu Deceived Me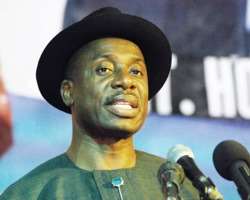 Wonders they say, shall never end. If Rotimi Amaechi had been told the scheme, the treachery, the goof and the cage of islam against him to which they used the so-called Jonathan's indolence to cage and lead him by the garden path, to support whole and entire, terrorist-made-flesh called Buhari to be President of Nigeria, he wouldn't have believed it.
Rotimi Amaechi spent billions upon billions of naira in the sponsorship of Buhari's presidential election. He was promised Secretary to the Federal Government. That entered Amaechi's head, and like a woman would fall for a man - stranger she never knew for love at first site only to regret at last, Rotimi Amaechi fell swoop, hook line and sinker, to the cascading fall of islamic torpedo.
Wonders they say shall never end. This serves Rotimi Amaechi good, better and best. I wish Ogbonnaya Onu who nurtured ANPP, then CPC and now APC could learn the lesson of Rotimi Amaechi. The worst is even Ogbonnaya Onu who by right should have been the person to occupy the post of Secretary to the Government of the Federation. Both Ogbonnaya Onu and Rotimi Amaechi are Igbos who never knew that Hausa Fulani can never in this world be given such sensitive post.
Comrade Kindness Jonah
National Commentator
080-3666-2901 & 080-9595-7698

Disclaimer:

"The views expressed on this site are those of the contributors or columnists, and do not necessarily reflect TheNigerianVoice's position. TheNigerianVoice will not be responsible or liable for any inaccurate or incorrect statements in the contributions or columns here."
Articles by Kindness Innocent Jonah