Achievements Of The Bayelsa State Ministry Of Women Affairs And Social Development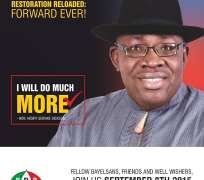 The Ministry of Women affairs and social Development was created in Bayelsa State was created in 1996 in line with the response to The United Nations agreement to establish Institutional Mechanisms for the advancement of Women and Women matters.
It is a product of efforts established through a Decree in 1989 giving rise to the National Commission for Women. This however was the initiative of the wife of the then Head of state (Dr) Mrs Maryam Babangida of blessed memory.
The Commission though recognized as a Government Institution, its activities was rather ad-hoc with no specific and adequate budgetary allocation. The wife of the Head of State then dictated the pace of activities in the Commission with the creation of her Better life Programmed for Rural Women. In 1995, the Commission was upgraded to a full-fledged Ministry of Women affairs and Social Development, which meant that Nigeria had achieved one of the critical areas of concern of the Beijing Platform for Action.
The activities of the Ministry, again largely influenced by the dictates of the wife of the Head of State at that time, Mrs. Maryam Sani Abacha who came up with her pet project; the Family support and Economic advancement Programme.
Indeed, like the Women Commission, resource allocation in the form of budgetary provision was very meagre, barely enough to pay the Salary of staff.
Intervention by the First Lady's progammes were basically welfarist in nature, targeting women for their immediate needs without tackling the age-long problem of lack of integration of gender awareness and competence into mainstream development planning. This arrangement brought a lot of institution credibility gap, which negatively affected the Ministry in many ways. For instance, when the Commission was upgraded to a Ministry status, it was not really at par with other Ministries and therefore lacking the requisite institutional identity and resource base. Other problems were lack of adequate budget allocations and a recognized technical cadre. The net effect of this credibility gap has been that the Federal Ministry of women affairs and social Development is not viewed as an equal government outfit with other Ministries making its gender mainstreaming work even more difficult to pursue.
In line with Government's repositioning and reform agenda for better service delivery in the country; the Ministry of Women Affairs and social Development came up with a clearer vision and mission statement as follows:
VISION:
"To help build a Nigerian society that guarantees equal access to social, economic and wealth creation opportunities to all irrespective of gender, places premium on protection of the child, the aged and persons with disabilities; focuses retention of key operators in bother private and public sectors on mainstrearning the concerns of these groups of people in national development process.''
MISSION:
"To serve as the national vehicle to bring about speedy and healthy development of Nigerian Women, children, the socially disadvantaged and physically challenged, and the main-streaming of their rights and privileges in national development process''.
THE MINISTRY'S MANDATE
"The broad mandate of the Ministry is to advise government on gender and children issues. Issues affecting Persons with Disabilities and the Aged; initiate policy guidelines and lead the process of gender equality and mainstreaming at both the national and international levels''.
FUNCTIONS OF THE MINISTRY
The basic functions of the Ministry of Women Affairs and Social Development are as follows:
• Promoting the general welfare of Women and enhancing their ability to realize their full potentials in various fields of human endeavours.
• Providing an enabling environment that will ensure the maximum and holistic development of the potentials of the Nigerian child towards national development and nation building.
• Promoting a multi-sectoral prorgramme synergy for the realization and enhancement of the survival, development, protection and participation rights of children in Nigeria with particular reference to the achievement of set targets enumerated in the child's Right Act 2003 (CRA), the National Empowerment and Development Goals MDGs.
• Embarking on awareness creation and formulation of policies and legislation on survival, development, protection and participatory rights of Women and Children in Nigeria.
• Promoting responsible motherhood and maternal health as well as protecting the rights of women.
• Taking steps that support the elimination of all social culture practices that discriminates against or are detrimental to the overall development of Women and girls.
• Ensuring the integration of Women in national processes and promoting the mainstreaming of gender on all issues of national importance.
• Supporting the work of relevant non-governmental organizations (NGOs) and civil society organizations (CSOs) working for the realization of Women and children's right.
• Advocating for the passage and enforcement of laws that protect and project the interest of the Ministry's target groups particularly the child's Rights Act 2003.
• Central planning of activities of the Ministry such as production of Annual Reports, Ministerial Press Briefings, and National Council on Women Affairs Meeting, Tenders Secretariat and Hiv/AIDS programmes.
• Co-coordinating and preparation of the Ministry's National Plan Medium Term plan and perspective plan in collaboration with other Department in the Ministry.
• Collection, collation, analysis, storage and dissemination of data research.
• Formulates and updates various policies and implementation of strategies for the development of various categories of Person with disabilities (PWGs).
• Subvention to recognized rehabilitation Centre and Non- Government Organization (NGOs).
• Coordination of Inter-governmental and Inter-State social welfare activities
• Rehabilitation of alcoholics, drug addicts, cult members and school drop outs etc.
• Care for the Elderly
• Training of professional social workers and the organization and coordination of training facilities for government and non- governmental social welfare agencies.
Women Affairs Department
The Women Affairs Department is one of the key operational Department charged with the responsibility of promoting women's advancement at both national and International Levels.
The Department undertakes the coordination of all activities that relate to the advancement active participation of Nigerian women in National Development and overall gender mainstreaming in all aspects of public life. It promotes policy formulation and programmed implementation aimed at integrating women into all sectors of development in order to achieve government's targets and intentions.
To achieve the set goals, the Department works in close collaboration with Gender Desk officers in line Ministries and Agencies, Women Non-Governmental Organizations and cooperative Groups United Nations, Civil Society Groups, Legislatures and International Development Agencies.
In order to effectively carry out its functions, the Department is divided into two divisions, namely:
o Human Resources and Capacity Building/ Women Organizations (HRCB/WO).
o Economic Services and Women cooperatives (ES&WC).
SOCIAL WELFARE DEPARTMENT
Social welfare is a component of the Social Development Directorate established under decree 12 of 1974 alongside other components such as community Development Women Development, Sports Development and Youth Development (Now Ministry of Youth development). However, Social Welfare Department came into being in 1989 with the creation then of federal Ministry of culture and social welfare.
MISSION
The mission is to ensure the provision of integrated and quality Social Services such as relief of distress- material and financial support for the poor, vulnerable, needy and provision of enabling environment for social progress''.
MANDATE OF THE DEPARTMENT
o The social Welfare Department through the Social Development Act No.12 of 1974 and the social Development Policy for Nigeria (1989) is charged with the following functions:
o Coordination of Inter-governmental and Inter-State Social Welfare activities.
o Conduct of research and surveys in various aspects of social Welfare;
o Training of professional social workers and the organization and coordination of training facilities for government and non-government social welfare agenies;
o International casework and adoption enquiries;
o Promote legislation on issues affecting Social Welfare in Nigeria
o Conduct research on International matters affecting Social Welfare.
o Relate with Social Welfare organizations at National and International levels.
o Care and support of all vulnerable groups (Destitute, the indigent, the sick and their families) BACKSLASH BACKSLACH.
o Provide probation and Counseling services
o Family conflict resolution management
o Care and support to Persons Living with Aids (PLWA)
o Participation in National, regional and International conferences and seminars on social Welfare matters.
Responsible for coordination National, Regional and international relations on social Welfare matters. This includes regularly attending conferences and meetings of the sessions of the UN commission for social development. The world Family Organization, African Union Labour and social affairs commission and follow-up to international me
SOME ACHIEVEMENT OF BAYELSA STATE WOMEN AFFAIRS AND SOCIAL DEVELOPMENT MINISTRY
A. THE MINISTRY COLLABORATED WITH SPDC AND EMPOWERED SOME PHYSICALLY CHALLENGED IN THE STATE.
Thirty young Bayesans living with disabilities had cause to celebrate last week when they were presented with certificates of merit and state up packs by the management of shell petroleum Development Company (SPDC).
This will enable them cater for themselves instead of looking up to close family members and the society for survival.
The lucky beneficiaries; 10 blind, 10 deaf & dumb and 10 physically challenged persons were trained in various skills and provided with capital to set up their own businesses.
Interestingly, the road to self-sustenance for these youths, Sweet crude learnt, began in August 2013, when the oil major with vast business interests in Bayelsa State signed a Memorandum of Understanding with the state Ministry of Women Affairs and Social Development.
The agreement is to train 30 persons living with disability under the Shell Livewire Programme with life sustaining skills that would enable them fend for themselves and their families.
The beneficiaries were drawn from the eight local government areas of the state of the state. Speaking at the graduation ceremony of 2014 shell live wire Nigeria 'described the programme as a veritable means of boosting capacity and increasing and increasing wealth portfolio in the Nigeria Delta.
His words: "the journey which culminates in today's event started in August 2013 following the successful signing of an MOU with the Ministry to train 30 persons living with disabilities on the Shell Live Wire programme. The group included; 10 blind, 10 deaf and dumb and 10 physically challenged persons."
Represented by Mr. Fufeyin Funkakpo, Government and Community relations Manager, he said, the training covered three days business development training and 27 days skill development training at selected centre's in the state.
His words: "This is the first time that the programme is focusing on persons with disabilities and we deeply appreciate everyone who has contributed to this unique programme.
"Our goal is to build capacity for business through access to entrepreneurship training and business development. These core commercial skills are combined with the necessary start-up capital with a focus on expanding or increasing youth owned businesses in the state.
"To date, Livewire Nigeria programme has trained over 5000 Niger Delta youths in enterprise development and management out of which over 2,700 were further assisted to set up their own businesses through business start-up awards."
According to him, said: "we are aware from out work and experience in the Niger Delta, that no single actor, can meet the scale, complexity and resources required to respond to the challenges of social development.
"That is why we continue to partner with other business entities, government, non-governmental organizations."
Receiving their certificates of merit and starter packs, the beneficiaries were full of gratitude as they thanked SPDC for the turnaround in their lives.
Isaac Stephen, who spoke on behalf of the beneficiaries, lauded the management of SPDC for voluntarily sponsoring them in different trade.
Stephen who doubles as Chairman, joint National Association of Person Living with Disability in Bayelsa, also thanked the management for giving starter packs and the sum of N6m to enhance their trade.
"We are grateful to the company, we did not apply for the training, but SPDC voluntary to train us," he said.
EMPOWERMENT OF WOMEN:
Other initiatives of the Ministry are
1. Empowerment of Women Distributed skills Acquisition of Equipment to Rehabilitation Centre's in: These include Irrigation pumping machines, grinding Machines,, Sewing Machine, Commercial Phone Booth Accessories, Clothing and other materials Necessary for training and commercial activities
Other initiatives on empowerment of women NGOs to establish various economic ventures, and in turn employed many women at the grassroots; some vulnerable women, including women in distress, women with disabilities, Widows, victims of HIV/Aids were grant-aided and provided with empowerment equipment such as grinding Machines. Coolers, Hair Dryers, Tailoring and Embroidery Machines to make them self-reliant; Skills on Agricultural skills among others.
1 NAME ADRESS
2 Comprehensive Rehabilitation centre,
Kpansia Kpansia neat Yenagoa, Bayelsa
State
By: Catherine Nnoruka, of the Social Medi Unit.
31/08/2015
Disclaimer:

"The views/contents expressed in this article are the sole responsibility of

Catherine Nnoruka

and do not necessarily reflect those of The Nigerian Voice. The Nigerian Voice will not be responsible or liable for any inaccurate or incorrect statements contained in this article."